*This post may contain affiliate links. As an Amazon Associate we earn from qualifying purchases.
Mission Peak ascends over the southern part of the San Francisco Bay, reaching a whopping 2,517 feet. At this peak, you can enjoy a 360-degree panorama shot that stretches from San Jose all the way to Mount Tamalpais.
If you find yourself at the peak on a clear day, you'll even be able to see the Sierra Nevada, facing east.
In 1904, the History of Washington Township published an article, describing Mission Peak as under-appreciated and underrated.
In the article, they suggested that maybe it was due to the fact that thousands of individuals are accustomed to catching glimpses of Mission Peak everyday that they begin to under-appreciate the individuality given to the landscape.
From its snow-capped peaks in the winter to its purple hues during summer months, Mission Peak is simply majestic. And anyone who has hiked it knows this to be true.
Since the publication of the History of Washington Township article, denizens of hikers and visitors have discovered this beauty for themselves and is now a very popular hiking destination, hosting hundreds of people every day.
This article outlines everything you need to know about this route including how to get there, how to hike it and how to prepare for it.
Getting to the Trailhead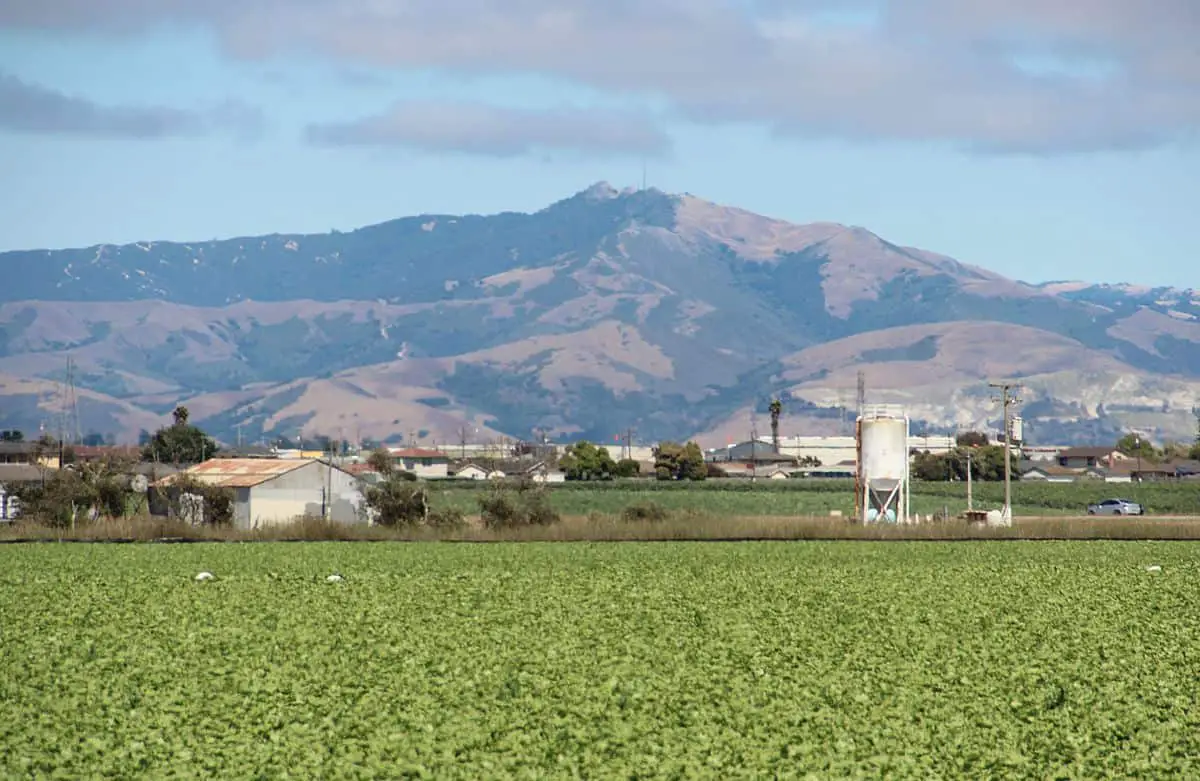 At 680 Stanford Avenue, Fremont, California, you'll find a small parking lot with many spaces.
This lot is the eastern main area of Stanford Avenue, so you really can't miss it.
On your left, you'll see the remnants of a building from the Leland Stanford Winery as you pass. The parking lot in this old winery is used for overflow parking for Mission Peak hikers.
Make sure to keep your eye out for street signs and parking rule notifications to avoid getting dinged with a ticket.
If you require more detailed directions, you can always turn to Google Maps for turn-by-turn instructions.
The trailhead hours are from 6:30am until 9:00pm. These are the hours posted on the trailhead which coincide with the hours on East Bay Parks Website as well.
However, these times aren't in line with the schedule on the East Bay Regional Parks District map for Mission Peak.
The reason why we bring this up is because there are many signs on the trail warning hikers that they will be fined if anyone or any vehicle is found in the staging area during off-times.
When in doubt, choose a more conservative time to avoid any issues and note that trail hours change depending on what time of the year it is.
Hiking to Mission Peak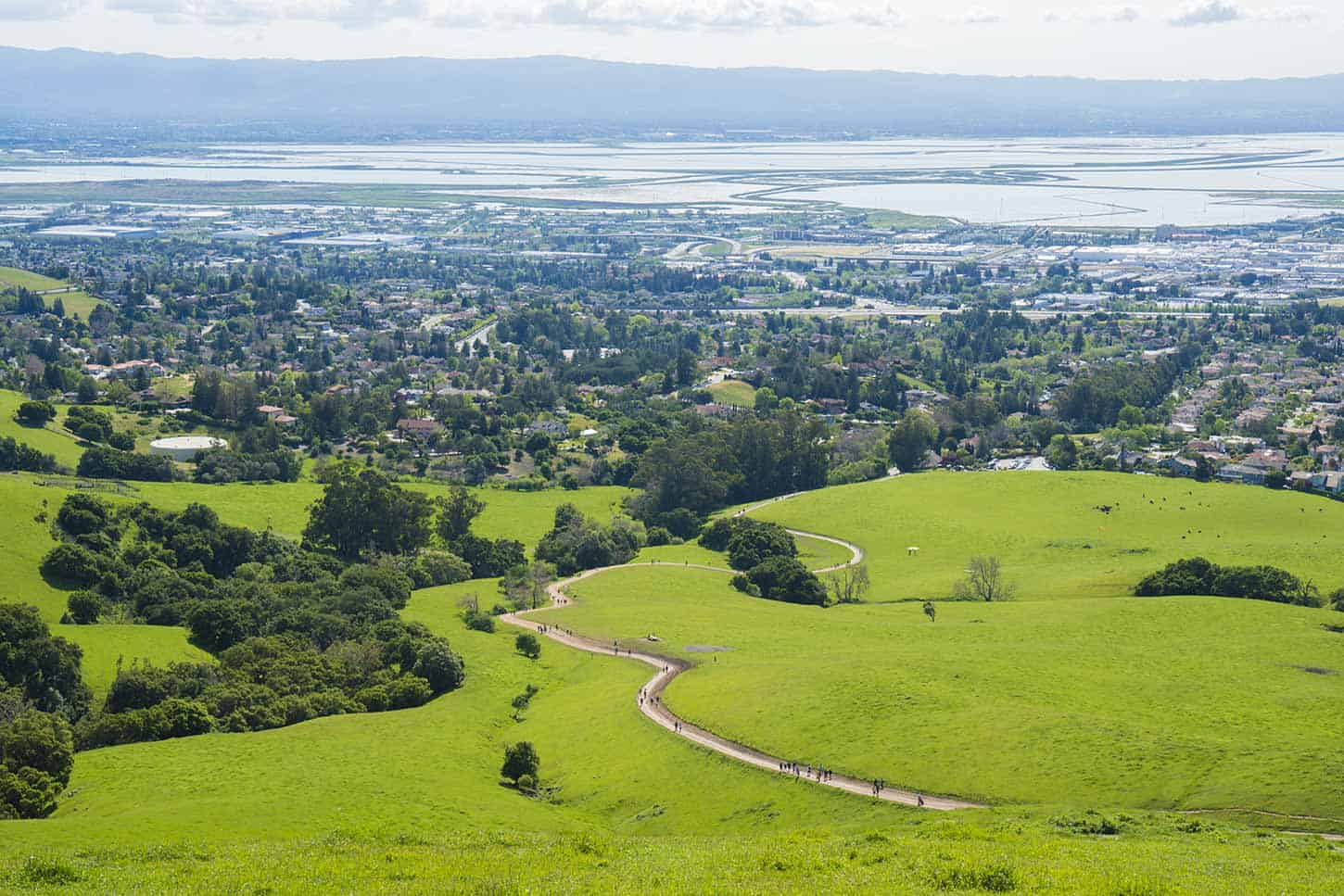 Now, what you've all been waiting for: how to hike Mission Peak.
The hike begins on the Hidden Valley Trail through a swinging gate. The first leg of the hike is a cow-grazing area, so make sure to give these big beauties lots of room. Don't try to touch or play with them. They just want to graze. Don't we all?
The hiking trail itself is a wide dirt and gravel road. Along the path to the peak, you'll come across six benches in total, offering you a chance to relax, recoup and soak in the natural surroundings.
At roughly 2.6 miles, you'll find a junction in the trail, heading to Ohlone College. In view, you'll also see a short detour to a toilet and then a hang glider lunch spot.
If the winds are in your favor, this is a recommended detour on the way back down (to finish off with a bit of a rush).
Keep right around the ridge until you find the final stretch to Mission Peak.
Unfortunately, this last leg is a steep gravel incline.
The path finally comes to a halt at 0.25 miles from the summit. Here, you'll find a rocky area where you'll need to find your inner wild-woman/man to climb to the top.
Remember to watch your footing as you ascend to the summit. 
Safe Hiking Tips For Mission Peak
Along with careful foot placement for the last stretch to the summit, hikers are urged to bring lots of water along for the trip.
Every year, many dogs die from dehydration and heat stroke at Mission Peak and heaps of hikers experience injuries.
Taking this into consideration, we recommend the following precautions if you're planning on hiking Mission Peak:
Bring along at least two liters of water for you and your furry companion (whether it's a dog or a hairy friend).

Feed your dog water every time you stop to drink some.

Wear a hat and reapply sunscreen every hour or so.

Try to avoid hiking in mid-day during the summer season.

Remember: dogs are more vulnerable to dehydration and heat stroke than humans. Only hike with your dog in cooler temperatures.

Take as many rests as possible (this isn't IRONMAN).

Pay attention for signs of heatstroke: heavy panting, weakness, inattention, dry gums.

Wear proper footwear: hiking boots or athletic shoes are key.

Come wearing thick socks to absorb moisture and to avoid blisters .

Don't wear sandals, flip-flops or high heels (please don't wear high heels).
While this isn't Everest, it still involves work and if you're hiking in the summer months, the sun can be deadly — literally.
The most important thing to remember is to hike smart.
Take care of yourself and your companions no matter what you think the hike may be like or what you can withstand. 
About the Park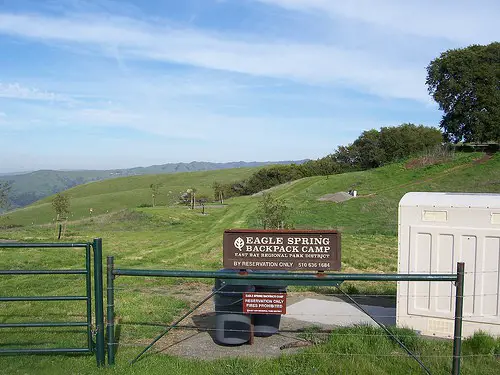 Mounting steeply into the eastern part of Fremont city, both Mission and Monument Peaks create a dramatic background for the South Bay.
The conditioned and determined hiker who meets the summit of Mission Peak will be paid for their hard work in gorgeous views.
To the south, you'll find Mount Hamilton and Santa Cruz Mountains, Mt. Diablo to the north, and Mt. Tamalpais to the west.
At this altitude, you'll see cultures and hawks sharing the peaks and open sky, along with sailplanes and feral goats exploring the cliff sides.
A truly memorable experience and well-worth the effort! 
Facts on Mission Peak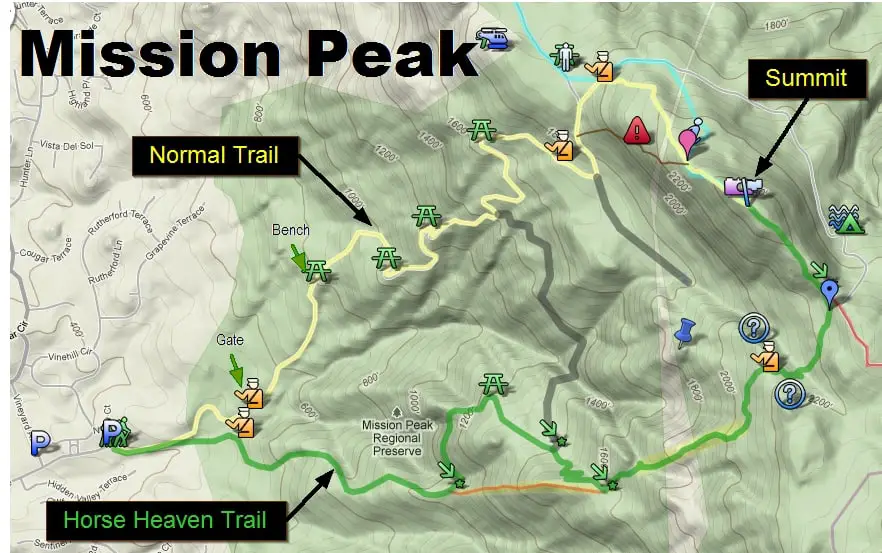 The summit reaches 2,517 meters and the total distance is 6.2 miles.
This takes you about 3 and a half to 4 hours to make it to the summit.
In total, you'll want to schedule about 5 hours. This hike is considered strenuous, so for new hikers or for older folks, it may take a bit longer.
Let's go through some other helpful facts about Mission Peak to help you become a total expert. 
When to go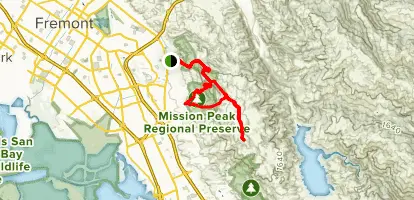 You can hike Mission Peak, year-round. This park is well-used, especially on weekends, hosting hundreds of visitors attempting to conquer the 3-mile climb.
As mentioned above, you'll need about five hours to reach the top and climb back down to the trailhead again.
The park's 3,000 acres are accessible from Ohlone College parking lots. While these entrances make for a bit longer of a hike, they also have a more gradual ascent, along with lots of parking spots during the weekend.
This trail also allows you to pass a horse corral and brings you along through shaded forests and peaceful, open grasslands. The trail belongs to the Bay Area Ridge Trail which is a 550+ mile trail, leading hikers along mountain ridgelines and hills.
Not only is parking plentiful at the Ohlone College parking lot, but it's also free on holidays and after 5pm on Saturday and Sundays.
From Monday to Saturday, the college charges $4 per car to use the lot. However, due to its convenience and availability of spots, it's well-worth it.
You can also enter the path from a small area east of Stanford Avenue in Fremont, yet the climb is steep and the parking lot is packed on the weekends. 
Park Activities
On top of this fantastic hike, the Regional Preserve offers biking, hiking, dog walking, and horseback riding.
If you're looking for more hikes in the area, the interpretive staff at Coyote Hills Regional Park offers guided or organized hikes along the peak and slopes.
If you're interested in this type of hike, or other naturalist-led activities, contact the Coyote Hills Visitor Center.
You can also try your hand at hang gliding and paragliding. The Wings of Rogallo is situated at Mission Peak Regional Preserve with hang gliding and paragliding activities for anyone brave enough to soar through the sky at incredible speeds
If you're looking for backpack camping spots, contact Eagle Spring Backpack Camp for opportunities.
Mission Peak Hike: Last Words
Mission Peak is a must-do for southern Californians and travelers coming through the area.
Remember to come prepared for this hike. Bring your favorite day bag and pack it with healthy snacks, at least 2 liters of water, sunscreen, a hat, and a portable charger for your cell phone in case you fall off course.
Yes, it can be a struggle, but a struggle well-worth it – as with any life challenge, it only makes the restful peak that much sweeter.