*This post may contain affiliate links. As an Amazon Associate we earn from qualifying purchases.
Crowders Mountain is one of the two main mountain peaks that make up Crowders Mountain State Park, the other being The Pinnacle.
Since Crowders Mountain State Park is a North Carolina State Park, there are some policies that govern its usage.
In this article, we start off by discussing some of these policies before discussing many other trail questions in depth.
Towards the end of the article, we offer our final thoughts on Crowders Mountain State Park.
WHAT TIME DOES CROWDERS MOUNTAIN STATE PARK OPEN AND CLOSE?
Many visitors to Crowders Mountain State Park want to know what time the area opens and closes, as this information allows them to plan their visit more accordingly.
The park office is open daily from 8am to 5pm, allowing visitors to ask questions to a local official and register for any necessary permits or rentals.
The actual park opens at 7am every day, but its closing time varies by the month of the year.
In November, the park closes at 7pm. From December through February, the park closes at 6pm.

From March through April, the park closes at 8pm.

From May through September, the park closes at 9pm.
Essentially, the closing time is a function of the available sunlight, which is why the park is open longest during the summer.
Many North Carolina State Parks are closed on certain holidays or during certain seasons. However, Crowders Mountain State Park is open all year, though its main office is closed on state holidays. 
WHAT ARE THE FEATURES OF CROWDERS MOUNTAIN?
Crowder's Mountain is one of the main attractions of Crowder's Mountain State Park and is taller than The Pinnacle.

Specifically, Crowders Mountain is 1625 feet above sea level, rising about 800 feet abruptly from the surrounding terrain.

Geologically speaking, Crowders Mountain is actually considered a monadnock and is thought to be a remnant of a much larger mountain that formed over 400 million years ago.

It's believed that this older mountain was gradually withered down by the elements, forming the modern Crowders Mountain.

This area has had a long history of usage by the native Indians, specifically Cherokee Indians and Catawba Indians. These people used the mountain peaks to demarcate hunting lands.

In addition, the Cherokee Indians used the various trails that crossed Crowders Mountain to conduct trade with other tribes.

The area was designated a North Carolina State Park in 1974 due to its diversity of wildlife, natural beauty, and recreational opportunities.

The peaks at Crowders Mountain and The Pinnacle offer sweeping, 25-mile views of the surrounding piedmont region. On clear days, many visitors can even see skyscrapers from downtown Charlotte, the largest city in the North Carolina.

There are 11 distinct trails that visitors to the park can access.

These trails range from beginner difficulty to strenuous. Three of these hiking trails offer access to the summit of Crowders Mountain and all are considered strenuous due to steep drop offs and subtle cliffs. Still, most kids can handle these trails as long as there is adult supervision. These trails range 0.8 miles long to 2.5 miles long.

There is also a 9-acre, man-made lake in the area that allows fishing and canoeing. There are also many backcountry camping sites in the area.

Furthermore, the area is a popular place for rock climbing and bouldering. This is because of the sheer peaks of both Crowders Mountain and The Pinnacle.

Both feature 100-150-foot rock cliffs that are perfect for daring climbers.
WHAT ARE THE BENEFITS OF CROWDERS MOUNTAIN STATE PARK?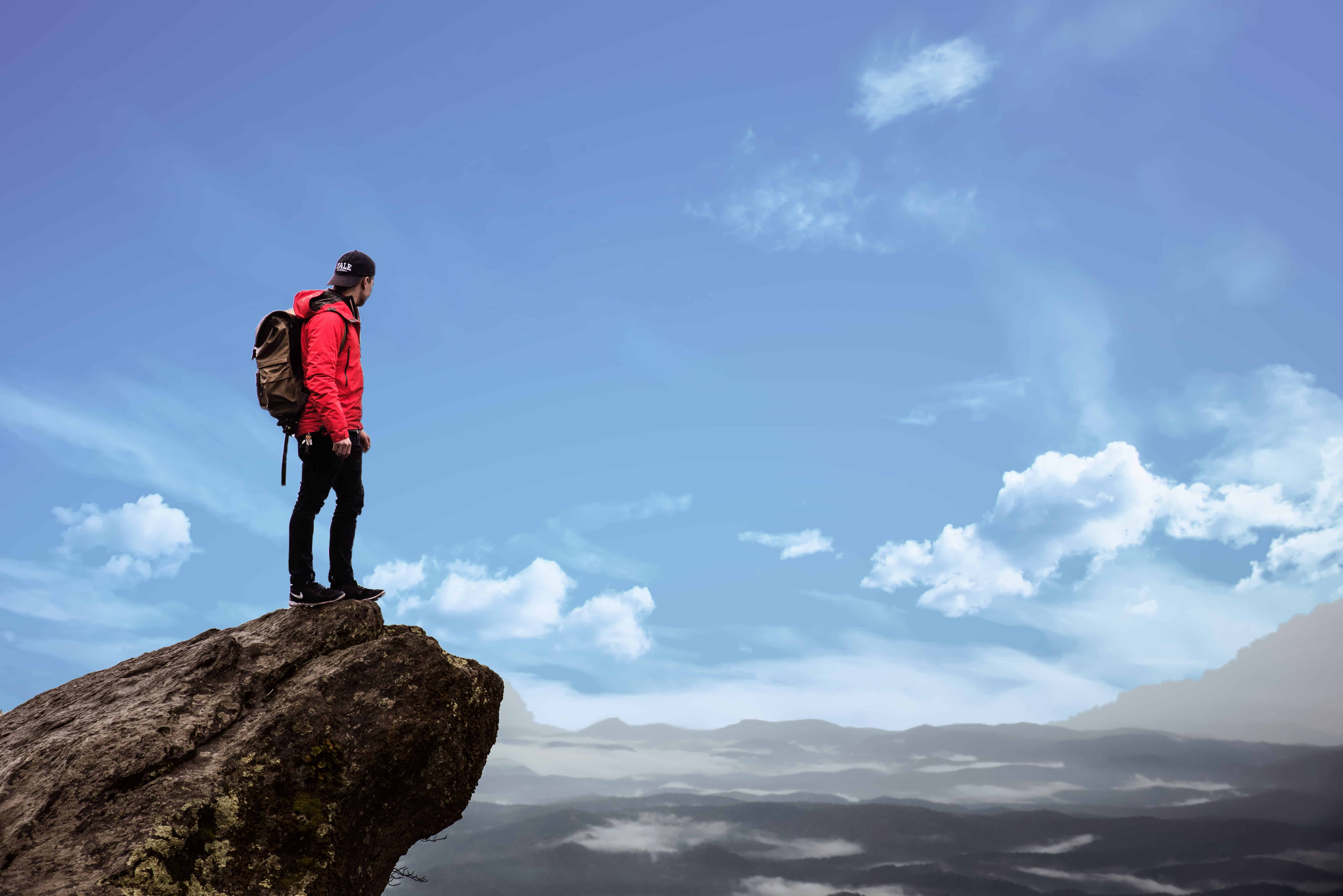 Crowder's mountain offers a bit of everything for outdoor enthusiasts.
Due to the gorgeous lake and the picturesque scenery, Crowders Mountain State Park would be a great place for families interested in camping for several nights.
Camping is a great way for families to bond since it offers such a stark contrast to modern ways of living.
Many families vacation at Crowders Mountain State Park since there are so many things to do. Kids love the option of renting canoes which can be done at the main office. This service is available May through October, making canoeing ideal as a summertime activity.
Even daring outdoor explorers have something to do at Crowders Mountain State Park. The sheer cliff structures make it a desirable destination for rock climbing and bouldering. All participants must register for a permit at the park office.
Perhaps the main benefit of Crowder's Mountain is the views it offers.
Due to its abrupt rise compared to the surrounding landscape, the peak of Crowder's Mountain is able to offer unprecedented views of the piedmont region. This offers a unique perspective on geography that many visitors would otherwise never experience.
More than anything, Crowders Mountain should provoke awe in visitors, for the diversity of flora and fauna on display is truly astounding. This is especially the case during the spring and summer months, yet the fall and winter also offer a singular experience for visitors.
WHAT ARE THE DRAWBACKS OF CROWDERS MOUNTAIN STATE PARK?
One of the main drawbacks of Crowders Mountain State Park is that swimming is not permitted in the man-made lake.
Many people like to go on a long hike and then cool off afterwards through a swim. Crowders Mountain State Park would not be ideal for this kind of activity.
Additionally, Crowder's Mountain State Park might open kind of late for some people.
During the summer, the sunrise is well before 7am. Visitors that want to experience the sunrise from Crowders Mountain would not be able to due to the opening time of 7am. This could mean missed photography opportunities as well as having to explore the area during more crowded times.
This same logic applies to the closing time of the park.
While 9pm is relatively generous, many people still want to stay at the park later than 9pm during the summer. Socializing around the lake is a popular activity, for example, though this would be limited by the 9pm closing time.
What are Some Tips for Visiting Crowders Mountain?
We recommend visiting the park as early or late in the day as possible in order to avoid the crowds. The most crowded period of the day is between 10am and 3pm. The weekends and summer months are also most crowded.
Additionally, you can never over-pack water. If you are going during the summer, you should bring at least two bottles of water as well as numerous snacks if you need to re-fuel.
We recommend nuts and dried fruits, as these are delicious, filling, and very portable.
We also recommend bringing your camera, as there are many gorgeous views to capture in the park.
At the same time, we recommend distancing yourself from technology as much as possible when inside Crowders Mountain State Park. Many visitors use their time in the park as an opportunity to reflect on their relationship to technology.
Lastly, we also recommend leaving your dog at home even though leashed dogs are allowed on the trail. We think dogs can disrupt the quiet of the wilderness, chase wildlife, and introduce diseases into the native populations.
Additionally, some visitors are sensitive to dogs.
This fear is only exacerbated by the environment of Crowders Mountain State Park. Dogs tend to act even more unpredictably and wildly when immersed in this kind of natural setting. This could result in a ruined trip for some visitors or even worse, some kind of attack or bite.
OUR FINAL THOUGHTS ON CROWDERS MOUNTAIN
We think Crowders Mountain State Park is worth the visit not only due to its two distinct peaks but also due to various trails, wildlife, and a lake.
The park should attract both daring explorers and traditional tourists, as this beauty of the region will be apparent to anyone that steps inside the park.
Visitors to the area should also reflect on the history of the space, as native Indians used to inhabit the lands only several hundred years ago.
Being in the park can thus offer a portal on history, and this is only enhanced by the various geological features of Crowders Mountain. This peculiar monadnock is thought to have originated hundreds of millions of years ago, though its exact evolution is still shrouded in mystery.
Many visitors love to reflect on how nature changes over time when visiting this park.
Since it's located in Western North Carolina, it experiences the extremes of all the seasons, including the sweltering heat of summer, the iridescence of fall, the snowy wonderland of winter, and the blooming beauty of spring.
Significant value can be derived from visiting the park any time of year, though visitors should make sure they are properly prepared in the winter. This entails bringing extra layers of clothing, snow shoes, walking sticks and of course an adventurous spirit.