*This post may contain affiliate links. As an Amazon Associate we earn from qualifying purchases.
Alamere Falls, at the Point Reyes Seashore, is a gorgeous scenic jewel set close to the city of San Francisco.
There's access from several trailheads, so you have your pick of routes to the falls depending upon your needs and abilities, although most are moderate-to-difficult.
The hike is worth it to experience the jaw-dropping beauty of the 30-foot-high falls thundering onto the sands of Wildcat Beach.
Because of its coastal location, proximity to San Francisco, and the challenging natures of the trails, there are a few things you should know before you go so you can make the most of your visit.
Plan Your Visit Around the Weather at Alamere Falls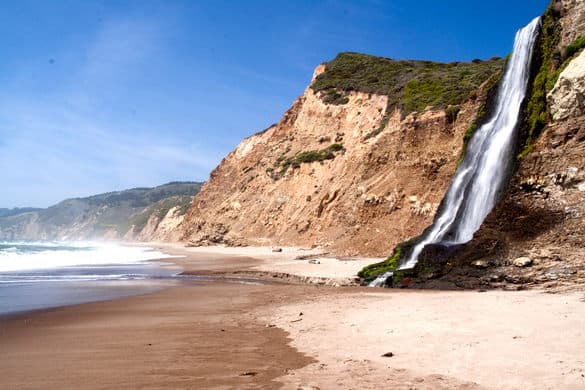 In the summer, while there might be warm temperatures and plenty of sunshine inland, the park can be covered in a chilly fog.
If you're going to visit Alamere Falls between June and September, be prepared for the possibility of fog by bringing layered clothing.
November and December are known for chilly temperatures and strong winds, so wear something insulating and make sure your shoes have good traction.
[amazon box="B003WOKYGQ" template="table"]
[amazon box="B07NL3JMCX" template="table"]
No matter when you visit, check with the National Weather Service before heading out, as there's no shelter from weather conditions in the park.
The easiest and most accurate way to monitor conditions is by checking the Alamere Falls Facebook or Twitter pages.
These social media pages can also give you an idea of how crowded the park is, and whether or not it is at capacity or closed for weather events.
Go Mid-Week for More Peace and Quiet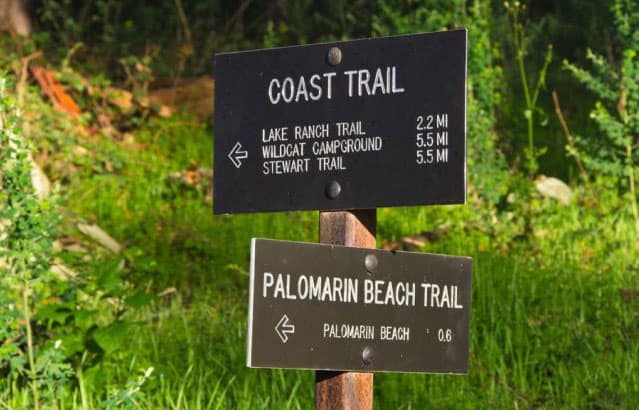 Alamere Falls is a very popular spot, with the Palomarin Trailhead easily the most popular route to the falls area.
Things are busiest on weekends and holidays, so plan accordingly by arranging your hike Tuesday through Thursday if you want to beat the crowds.
Depending on the trail you're hiking, you should plan to begin two to three hours before low tide so you're able to access the falls at Wildcat Beach.
Taking that into consideration, come as early as possible.
The parking lots fill up quickly and you'll have to queue for entrance or come another day if it's full — there's no shoulder parking allowed at most trailheads.
Four Ways to Approach Alamere Falls on Foot
The National Park Services recommends hiking to Wildcat Beach Campground and then walking down the beach at low tide to view the falls.
There are several other park-sanctioned trails to the falls, each with their own unique scenery and challenges.
PALOMARIN TRAILHEAD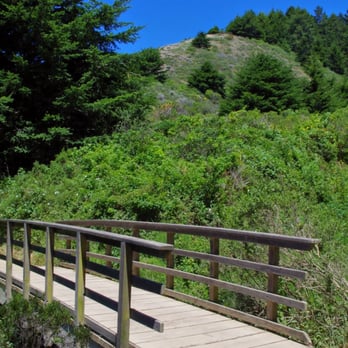 Possibly the most popular of the trails leading to Alamere Falls, the Palomarin Trailhead is on Mesa Road, around 5 miles outside of Bolinas, to the northwest.
Be aware that some of Mesa Road makes for rough driving. Portions are unpaved, washed-out, and filled with significant potholes.
This location boasts several vault toilets as well as receptacles for your garbage and recyclables. However, there's no water available, so make sure you bring plenty in with you.
Parking at this trailhead fills up fast, so come early.
There is overflow parking on the west side of Mesa Road, but the park often closes when it gets to capacity, so there's a chance you could be turned away if you're not among the first visitors.
Where it passes along the coast, this trail is exceedingly narrow and steep.
Many people must slow down to figure out a safe way to navigate downward, so there's often a bottleneck of hikers at different spots along the trail.
The first steep decline will bring you to a few minor waterfalls that sit above the main falls. The second decline will take you along the trail to Wildcat Beach, where you can view the main falls from the sand.
Be careful on this second decline — the gravel is loose and there's often two-way traffic, with returning hikers vying for space on the narrow footpath.
The hike to the falls from the Palomarin Trailhead is 6.5 miles one way.
BEAR VALLEY TRAILHEAD
Bear Valley offers restrooms with flush toilets and a potable water source near the parking area of the trailhead.
There's also a Visitor Center where you can get information about the parks, nearby scenic attractions, and the various trailheads, all of which are accessible from here.
Make sure you park in the gravel lot, not in the paved lot that's reserved for Visitor Center parking.
This trail is less traveled than Palomarin, so it's a nice choice for those looking for more peace and quiet on their hike. Be warned, though, the trail is rated as difficult, so come prepared.
The hiking distance to Alamere Falls beginning from the Bear Valley Trailhead is 7.3 miles one way.
FIVE BROOKS TRAILHEAD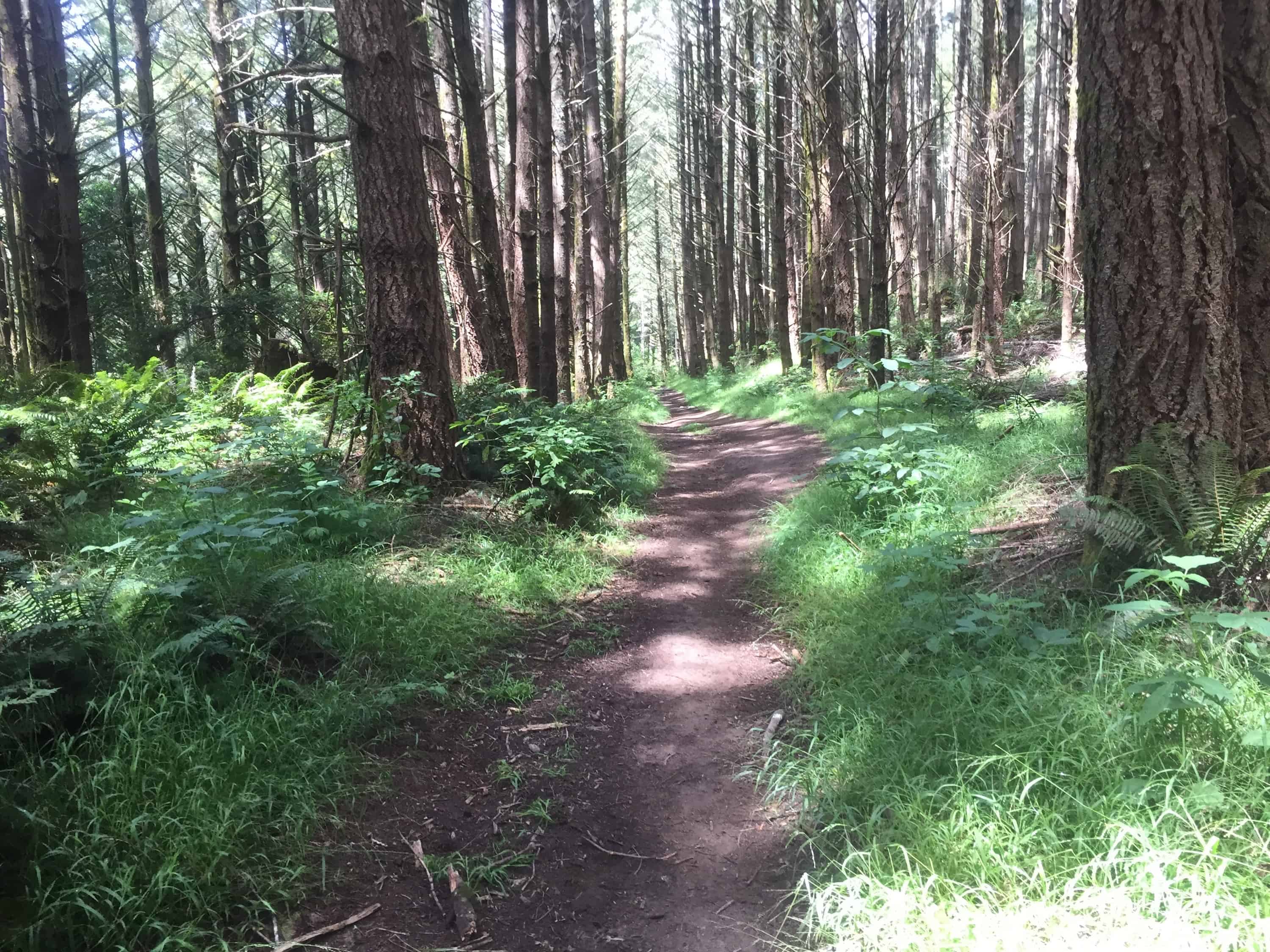 Five Brooks is just ten minutes down the road from the Bear Valley Visitor Center.
There's no potable water at this trailhead, but there are a few vault toilets and a place to dispose of garbage and recyclables.
One outstanding feature of this trail is a little side-trail close to the falls called Stormy Stack.
Climbing Stormy Stack will treat you to spectacular panoramic views of both the Pacific Ocean and nearby Pelican Lake.
Alamere Falls is 7.1 miles one way using the Five Brooks trail.
FROM WILDCAT BEACH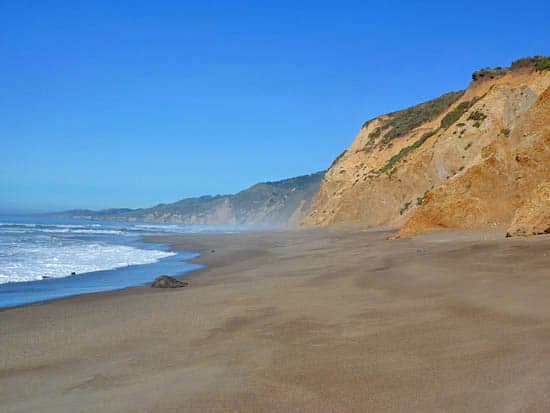 All of these trails can take you to the Wildcat Campground, where you can safely view the falls from Wildcat Beach after a short, 1.1-mile walk.
If you feel like you can't make the approximately 13-mile round-trip on the other hiking trails, plan on hiking to the Campground and stay the night.
The next morning at low tide, you can take the short hike to the falls and back easily.
Even if you choose to view the falls this way, precautions must be taken to ensure you will not be swept away by the strong currents that often batter the bases of the bluffs.
Summer and fall conditions allow you to walk more safely at a higher tide, but if the water is reaching the bluff bases, you should not attempt to reach the falls.
Doing so could result in injury or death.
THE TRAILHEAD THAT'S NOT A TRAILHEAD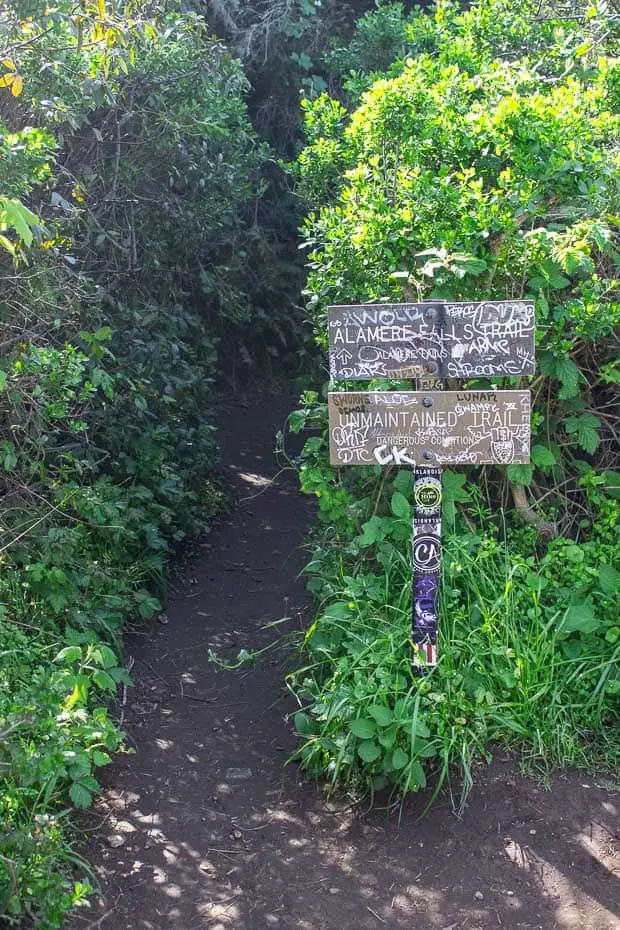 Social media and bloggers have popularized an "Alamere Falls Trail" as a short-cut to the falls. This trail is not sanctioned by the National Parks Service and should never be attempted.
It is not maintained and features unstable cliff surfaces and tons of poison oak.
There is no cell phone service on this footpath, and visitors traveling to Alamere Falls using this "trail" have often been injured or become the focus of a search-and-rescue mission.
For your safety, please use only park-sanctioned trails like Palomarin, Bear Valley, Five Brooks, and the walk from Wildcat Beach.
Other Places of Interest Near Alamere Falls
There are a number of outstanding points of interest near Alamere Falls.
Besides taking a dip in pristine Bass Lake along the Palomarin Trail, the following sights are all in the Point Reyes park.
Point Reyes Lighthouse – Built in 1870, this picture-perfect lighthouse can afford an awesome view on a sunny day.
Chimney Rock — This popular overlook area near the lighthouse will give you a close-up view of elephant seals during breeding season from December through March.
Gray Whale Migration — Between Chimney Rock and the lighthouse, many gray whales and their calves can be spotted in mid-January through the middle of March as well as in late April or the beginning of May.
The park, which is located in the Phillip Burton Wilderness area, is home to many native species of plants and animals, from Tule elk and harbor seals to various species of shorebirds and other animals.
Visiting Alamere Falls is just one of the many things you can see and do in this outstandingly well-preserved wilderness area.
The Best Time to Visit is When You're Prepared
Most of the trails to Alamere Falls are rated as moderate to difficult, so come prepared with the following basics:
Insulation for sudden changes in weather
Lighting — flashlight, lantern, headlamp
[amazon box="B000069EYA" template="table"]
[amazon box="B01MY6VVWU" template="table"]
[amazon box="B072WHQFJ7″ template="table"]
Remember that only two trailheads have both potable water and toilet facilities and plan accordingly. Pets are not allowed on the trails, and some areas have spotty — or no — cell phone services.
Also make sure you've got a full tank of gas before heading out to hike the falls. The nearest gas station is five miles from the Bear Valley Visitor's Center.
For the prepared hiker, the trails to Alamere Falls offer a fun, challenging hike with the reward of a dramatic, up-close view of the spectacular waterfall as it plunges to the sea.
Often rated as one of the most beautiful scenic areas to hike, the Point Reyes Seashore and Alamere Falls are well worth the effort and energy.
KEYWORDS:
Alamere Falls