*This post may contain affiliate links. As an Amazon Associate we earn from qualifying purchases.
Many people are drawn to Hawaii because it's islands offer many things for visitors to do.
The island of Oahu is home to the capital city of Honolulu in addition to many hiking opportunities for outdoor enthusiasts. Many hikers like to access Manoa Falls, which is a 100-foot waterfall that lies in Manoa Valley in Oahu.
In this article, we discuss this waterfall and its associated trail in more depth.
After answering some initial questioning regarding access to Manoa Falls, we pose other popular trail question and provide their answers.
Finally, we offer our concluding thoughts on this majestic, natural waterscape.
HOW DO YOU ACCESS MANOA FALLS?
Many people that visit Hawaii are tourists who are unfamiliar with the various landmarks on the islands. Since there are so many things to do and places to see, some tourists can get overwhelmed by the density of attractions in such a small area.
Luckily, Manoa Falls is not difficult to find within this density, as it lies about 15 minutes outside the heart of downtown Honolulu. This is an unprecedented location, as there are very few places in the world with this level of wildness and lushness that simultaneously sit so closely to a major urban center.
In this sense, even though Manoa Falls and its associated trail might seem like a remote location straight out of a movie, it can easily be accessed by car, bike, foot, or bus.
In general, the trailhead for Manoa Falls Trail, which leads to the falls, lies at the end of Manoa Road.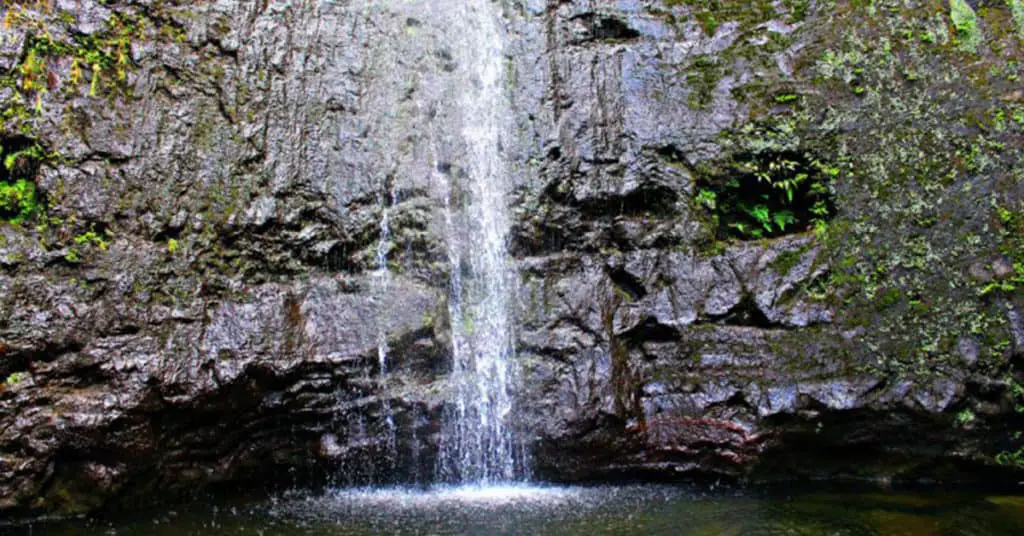 If you are driving your car, parking is available at the old Paradise Park facility lot for $5. Some travelers like to park in a residential neighborhood that is about a 0.25-mile walk from the trailhead.
Additionally, some people decide to ditch their car and take the bus to the trailhead. If you're doing this, make sure to the take the #5 Bus to the Manoa Road stop. The trailhead will be a little less than one-mile walk from this stop.
Some visitors like to emphasize fitness and so try to get a workout in before the hike to the falls even begins. These visitors might do well to rent a bike for the day and ride it to Manoa Road. The end of Manoa Road is only about a 5-mile shot from the beach, making it the perfect starting spot for a hike through the tropical rainforest.
Alternatively, many people simply walk to the trailhead, as the island of Honolulu has very walkable terrain.
WHAT ARE THE BENEFITS OF ACCESSING MANOA FALLS BY FOOT OR BIKE?
There are many benefits to accessing the trailhead for Manoa Falls Trail by foot or bike, which we discuss in more depth in this section.
First, Manoa Falls is not only one of the most popular tourist destinations on the island of Oahu but on all the Hawaiian Islands. It's an easy, short hike that most demographics can handle. The total roundtrip distance is less than 2 miles. Yet, it offers stunning views of the surrounding rain forest as well as incomparable access to a waterfall.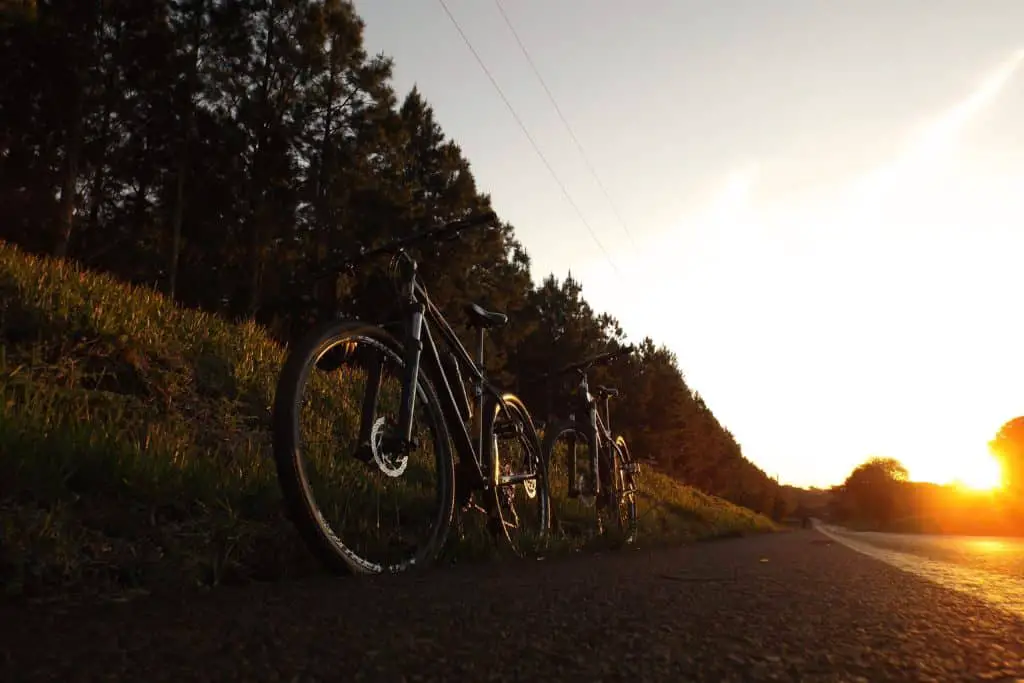 These features make it very crowded, especially during the peak season of the summer and during the peak hours of 9am to 5pm. During these time periods, the trail and falls can be crowded with people, making a parking spot almost impossible to find, even if you park in the adjacent residential neighborhoods.
Accessing the trailhead by bike or foot might allow you to avoid parking headaches. This could expedite your excursion, especially if the area is particularly crowded. Some visitors spend just as much time getting to the falls and finding a parking spot as hiking and experiencing it. This is a shame given how much there is to do in Hawaii and how little time we often have.
In this sense, accessing the trailhead by bike or foot could maximize your time in Hawaii, especially if you had already planned on biking or walking around Hawaii. Furthermore, it could also maximize other visitor's time in Hawaii, as your transportation method will free up parking spaces for other visitors, making the experience smoother for everyone.
WHAT ARE THE BENEFITS OF MANOA FALLS?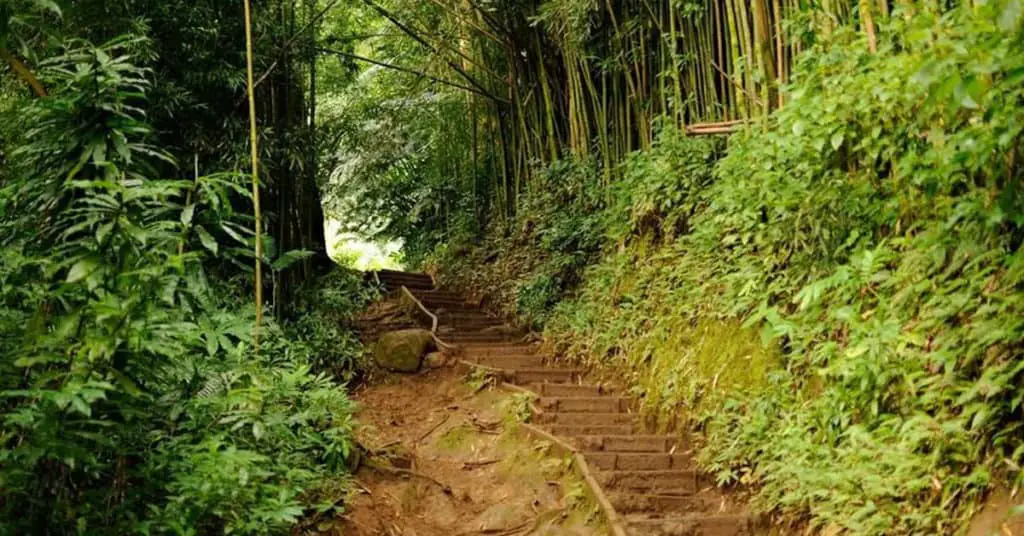 Though man-made steps and bridges are featured on the trail, many visitors will still relish the messy, dirty elements of the experience. Indeed, there's nothing like submerging your feet in the curative Hawaiian earth.
Though hiking shoes are highly recommended for all visitors, that doesn't mean you can't temporarily take your shoes off and revel in the energy of the rainforest. Many people like to unwind once they get to the falls, finding a nice rock and meditating for a while. Depending on the amount of rainfall, the waterfall could produce a droning, explosive sound that helps drown out your anxieties.
In this sense, Manoa Falls offers a stark contrast to the urbanized center of Honolulu despite only being 5 miles away. This is a combination that few other landmarks in the world can offer.
What Are the Drawbacks of Manoa Falls?
Some visitors complain that the hike is not challenging enough or long enough, as the hike to the falls is less than a mile. These visitors claim that the experience of the waterfall is not as rewarding when you don't have to work hard to access it.
If you have this sentiment when it comes to experiencing attractions of the natural world, then Manoa Falls might not be ideal for you. Of course, as we mentioned above, you can always extend your hike by starting or ending at the beach.
Additionally, some visitors think that the natural falls has been saturated with tourists. During the peak times of the day and year, the area might be loud, dirty, and packed with visitors. This can impact your experience of the falls, especially if you were anticipating something quieter.
Even though Manoa Falls is located on a remote island in the middle of the Pacific Ocean, some visitors claim that it can feel like a traditional hike at some mainland park.
If you want to avoid these dissatisfying elements, then we recommend that you go as early or late as possible. Many people like to catch the sunrise or sunset from the falls, as the iridescent colors that often manifest can by magical to witness.
Our Final Thoughts on Manoa Falls
We think Manoa Falls is a must-see attraction for anyone visiting Hawaii as well as for any locals.
Since the trail and falls are so close to the urban center of Honolulu, we recommend accessing he trailhead by foot or bike if at all possible.
In addition to being able to avoid parking headaches and costs, this method of transportation is also good for the environment because it doesn't result in the burning of fossil fuels. Driving a car or taking a bus releases greenhouse gasses into the atmosphere, which can lead to global warming and environmental degradation. These things are antagonistic to the preservation of this area.
We love how unpredictable Manoa Falls is when it comes to rainfall. This element only deepens the experience and makes the hike seem more rugged. Many children will enjoy this factor, as they will be able to imagine themselves as pioneering explorers discovering some gem in the wild.
Many visitors to the falls claim that the environment seems oddly familiar, like something out of a movie. In fact, scenes from the 1993 film Jurassic Park were actually shot in Manoa Valley as well as some scenes from the recent television show Lost. This is a testament to how picturesque this area is.
We think Manoa Falls will continue to be a popular destination in the future as travelers seek a contrast to the concrete jungles they inhabit daily.