*This post may contain affiliate links. As an Amazon Associate we earn from qualifying purchases.
With more than 32 miles of parkland along the Patapsco River, the Patapsco Valley State Park in Maryland offers an unprecedented number of opportunities for hiking, bird watching, and other outdoor pursuits.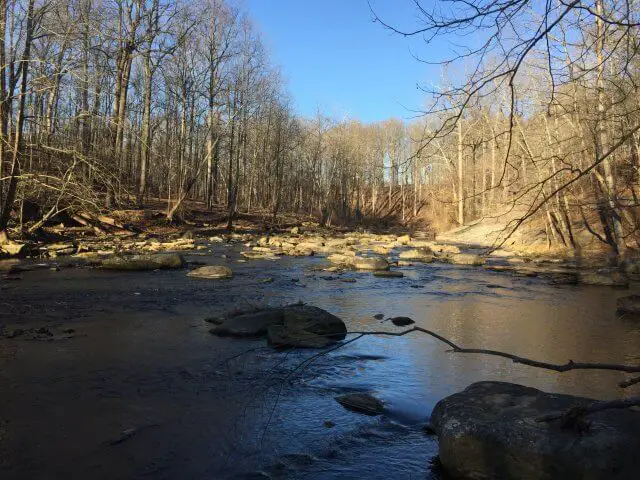 There are over 16,043 acres dedicated to outdoor activities, and the park features eight recreational areas that have been developed to cater to people who love the outdoors.
Patapsco has it all — hiking, camping, mountain biking, fishing, and canoeing — as well as simply relaxing at one of the many picnicking areas available in onsite.
Patapsco State Park is a hiker's paradise, with over 70 miles of well-maintained trails, and 200 miles of hiking trails altogether.
The park caters to hikers with a number of hiking-only trails, although they offer multi-use trails for bikers and others.
Like any park service, Patapsco State Park has a number of dos and don'ts to keep in mind when using the facilities.
Let's explore some of the most important ones.
Do Visit Patapsco State Park with A Plan in Mind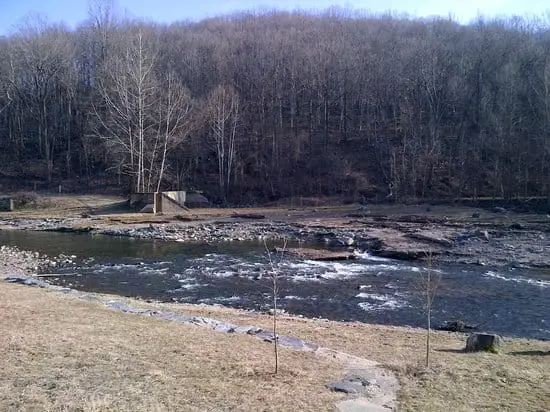 Like many popular park areas, Patapsco can easily reach maximum capacity on popular days, mostly holidays and weekends in the summer.
When the park's capacity is reached, park personnel close the gates and turn traffic away.
Do be aware that even if the rest of your party is in the park, you will not be allowed to join them if the park gates are closed.
If members of your party are traveling in separate vehicles, it's a good idea to form a caravan and arrive at the same time.
However, if you have reservations for camping, you'll still be allowed to enter, since parking will have been reserved for you ahead of time.
History shows that when the weather's good the Patapsco is likely to fill up and close on Memorial Day, Fourth of July, and Labor Day weekends.
Do Visit All Areas of this Expansive Park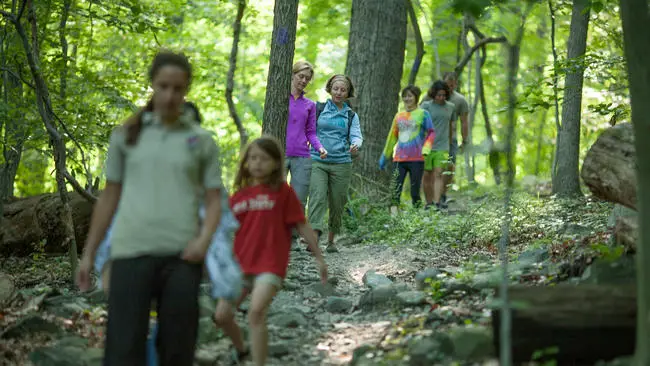 This park has something for everyone — hikers, mountain bikers, disc golfers, anglers, hunters, swimmers, horseback riders, and more.
And the park service wants you to enjoy every inch of the park. They've made it easy, by dividing the park into distinct areas, each with its own flavor and flair.
While you're enjoying the facilities, Patapsco State Park recommends you:
Do choose appropriate foot wear
Do know the trails and prepare for emergencies
Do hydrate and take a snack with you
Do bring a first-aid kit and appropriate safety equipment
Do dress appropriately for the weather
Do let someone know your route and timeline – cell phones service is not reliable
Do help keep the trails maintained by not using them while they're wet. Please wait 24 hours after a rain before using the trails.
Do leash your pets at all times.
Do obey park signs and rules.
Now that you know the rules, let's look at each area of the park and what it has to offer.
Avalon/Glen Artney/Orange Grove Area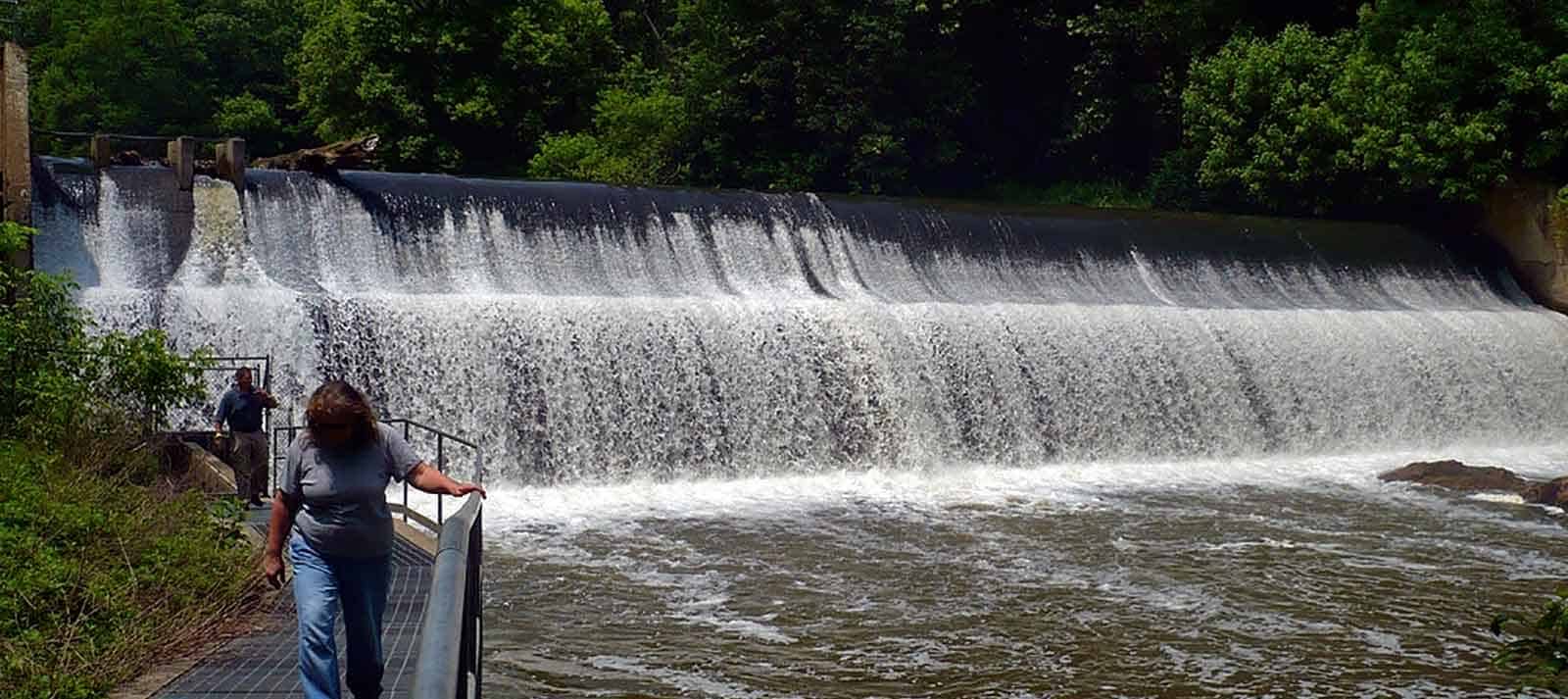 This southernmost area is entered through South Street located in Baltimore County, and comprises three unique and distinct park areas.
The Avalon area once hosted the Avalon Nail and Iron Works, and some remains of the bustling mill town still endure.
Today, this section of the park gives hikers access to trails that traverse the valley along the river as well as meander out of the valley through uphill climbs.
It also has picnic pavilions and playgrounds as well as a visitor center housed in one of the historic village buildings. The Orange Grove area is reached through the Avalon part of the park.
Orange Grove was home to a mill town, and still has a replica swinging bridge that connects Orange Grove visitors to the Grist Mill hiking trail.
There are several great trails in Orange Grove, including a short walk to the site of the historic Bloede Dam, the first hydroelectric dam that featured turbines inside the dam's hollow core.
Finally, the Glen Artney area features the whimsically-named Lost Lake that once helped power the down-river iron works.
There's an extensive picnicking area in the part of the park, with playgrounds, shelters, and quick access to some of the most popular trails, such as Grist Mill and Soapstone.
These three areas have such historic charm that a hiker might feel transported back into another, calmer, less stressful time period.
Besides the treasures of the past, hikes through these areas are promised expansive vistas, stunning waterfalls, and enchanting brooks and streams.
Pets are allowed in this area but must be leashed. Some of the hiking trails to choose from include:
Morning Choice
Rockburn Branch Trail
Cascade Falls
Ridge Trail
River Road Trail
Valley View
Buzzards Rock
Forest Glen
Vineyard Springs
Sawmill Branch
Grist Mill
Bull Run
Soapstone
These trail lengths range from .6 miles to 2.3 miles in length.
Hollofield/Pickall Area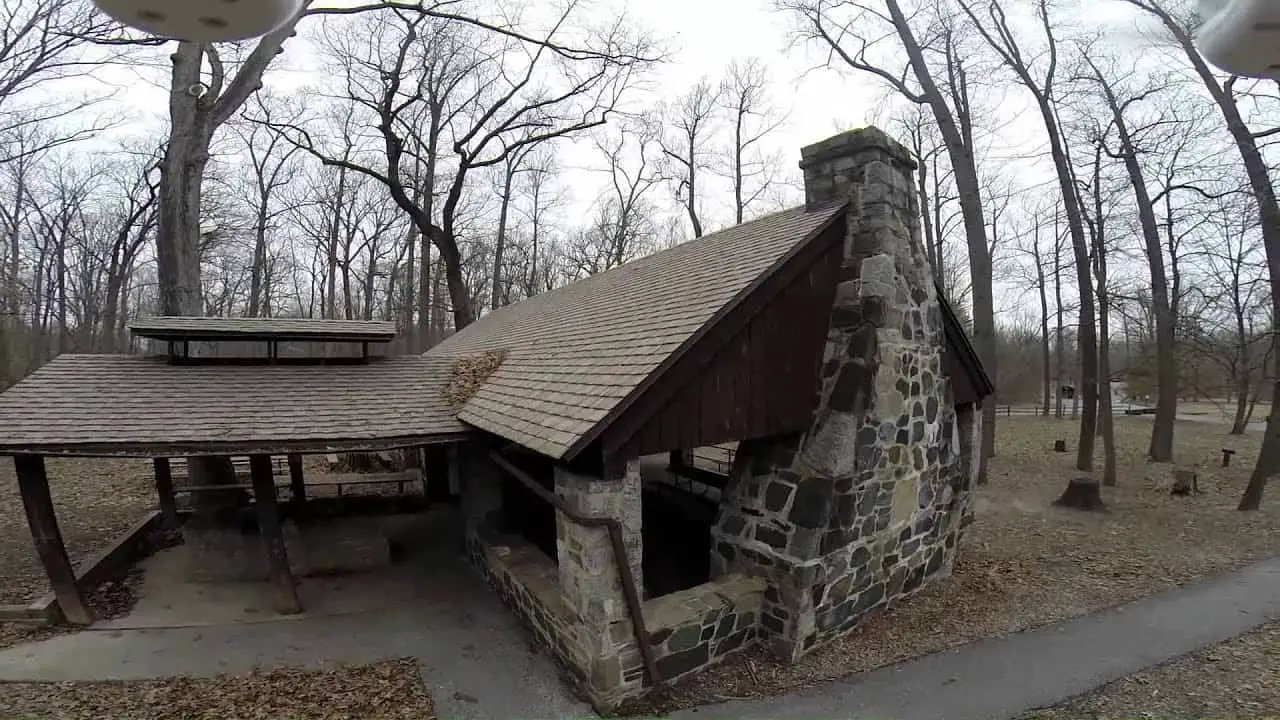 The Hollofield Area is central to the park and runs along Baltimore National Pike. The Park Headquarters are located here, as well as 73 camping sites with an incredible view of the river.
Some of the camping sites include electrical hookups, and swimming and fishing are allowed in the nearby river.
The hiking trails are short here, but the area is perfect for large groups to picnic and enjoy the expansive scenery.
With 10 shelters available that can hold anywhere from 10 to 100 guests, this is the perfect place for a family reunion or even a hiking group luncheon.
Dogs are allowed but must be leashed at all times. Trails include:
Ole Ranger

Union Dam

River Ridge

Peaceful Pond

These hikes range from 0.1 mile to 1.5 miles in length.
Hilton Area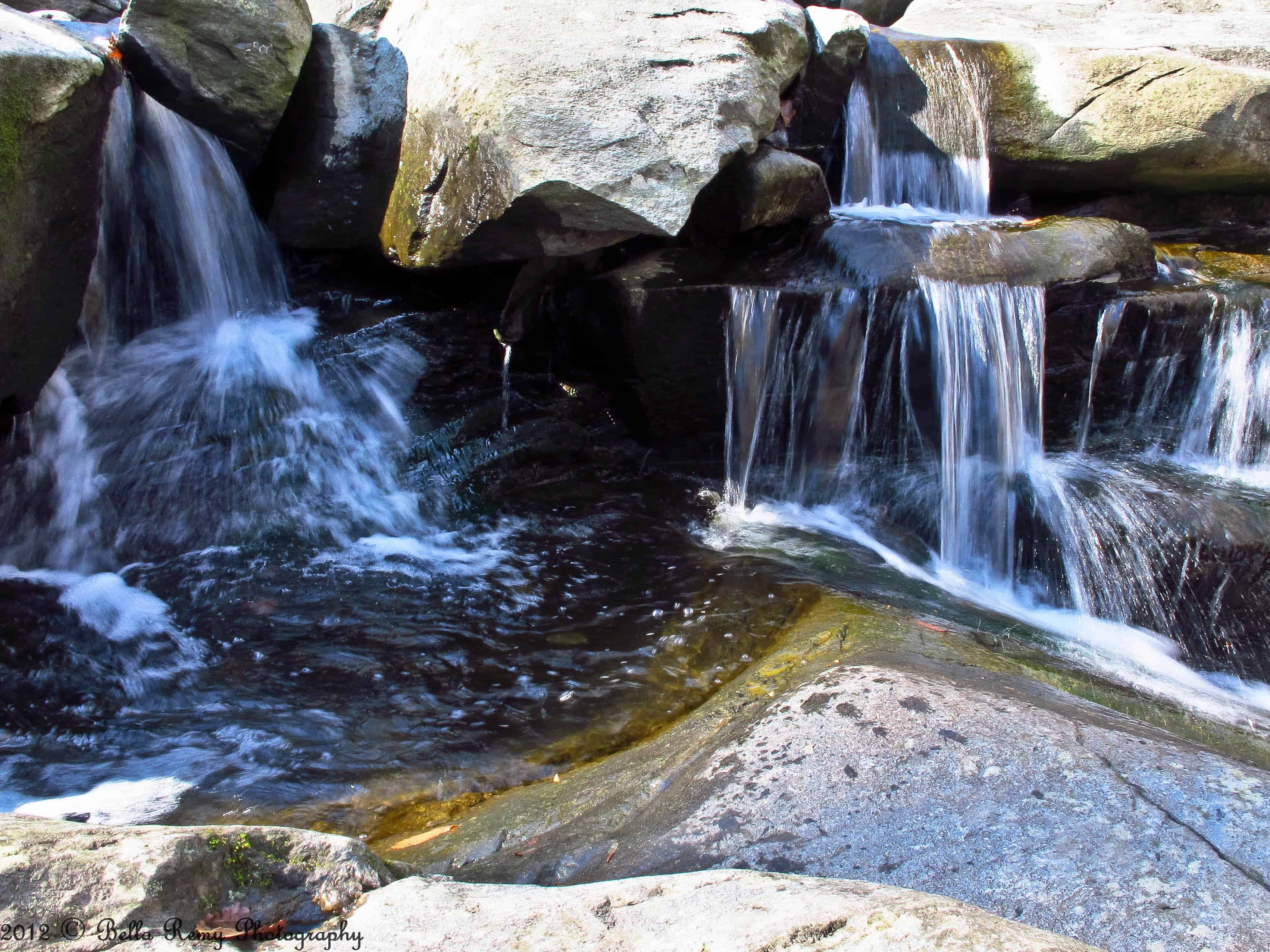 The Hilton Area is within walking distance of nearby Catonsville, which makes the trails here popular for morning workouts with locals and visitors alike.
A Nature Center with programs for children and a two-acre playground made from recycled tires make Hilton a good choice for families.  
But don't think this means the hikes in Hilton are tame.
Some of them have stream-crossings that use stepping-stones rather than bridges and Sawmill Branch Trail gives you the chance to boulder-hop your way across a stream.
Forest Glen Trail gives you river access to test the waters or just enjoy the view.
And if you like, you can stay the night at one of 12 primitive campsites or six small cabins.
Trails include:
Forest Glen

Santee Branch

Pigs Run

Sawmill Branch

Charcoal Trail

Hikes on these trails range from 0.2 to 2. 4 miles, and leashed pets are welcome to accompany you.
Daniels Area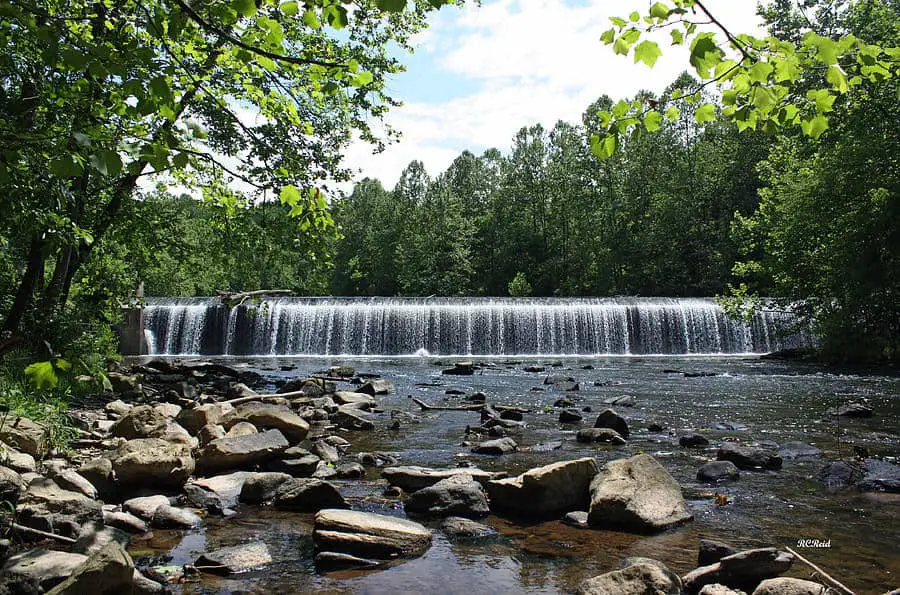 Another historic mill town site, Daniels Avenue or Alberton Road can give you access to this quiet, serene part of the park.
Due to the Daniels Dam fish spawning area, anglers love to hike down to the dam and try their luck with small mouth bass or Rainbow and Brown Trout.
Kayakers and canoers appreciate the two miles of calm, flat water that backs up behind the dam, even during low water conditions, giving paddlers at least 4.7 miles of river to float down.
Swimming is also allowed, and there's a single trail in this area of the park that meanders up the river. 
McKeldin Area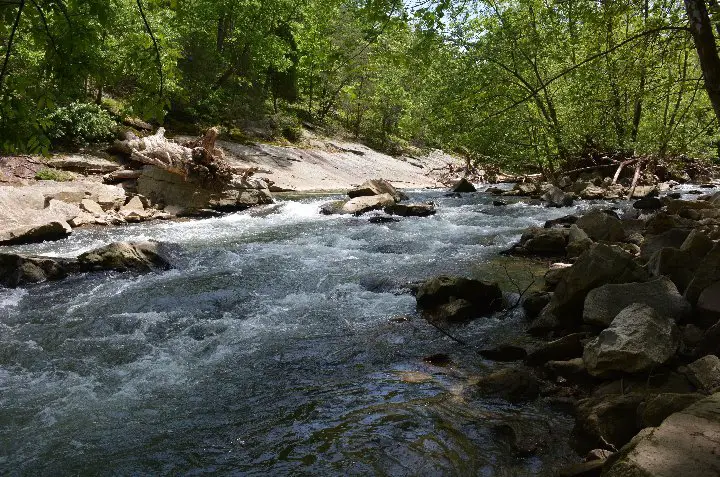 The McKeldin area is in Carroll County and has many miles of trails specified as multi-use — for hikers, bikers, horseback riding, and more.
In the most northern part of Patapsco State Park, McKeldin gives hikers access to trails along the river, where the Main and South Branches of the Patapsco River merge into raging rapids.
After a hike, you can play disc golf on the 18-hole course or reserve a shelter for an after-hike picnic. The Liberty Reservoir Dam is within view of some of the shelters and offers an interesting backdrop.
There are 10 shelters that accommodate from 10 to 175 people and six trails that range from 0.3 to 4 miles in length.
Some trails include:
Rapids Trail

Switchback Trail

Plantation Trail

Tall Poplar Trail

Medicine Tree Trail

Spring Glen Trail
Leashed pets are allowed, and swimming is allowed where posted only.
The rapids in this area of the park can pose a danger to swimmers, so please obey the signs. 
Be Aware of the Don'ts When Using Patapsco State Park
The Patapsco State Park is so expansive that it takes a lot of coordination to keep it running. As such, the park offers a few rules for visitors to follow.
They ask that you:
Don't bring personal firewood onto park property to help control Emerald Ash Borer.

Don't consume alcohol on park property except in full-service cabins or motorhomes, or in a shelter where you've purchased a special permit.

Don't use metal detectors on park property unless you have a permit. Permits are issued to archaeologists only.

Don't use an e-bike, booster bike, powerbike, or other electronic bicycle within the park.

Don't hunt on park property, except within designated areas. There are two, an archery-only deer-hunting area, and a muzzleloader deer hunting area. You must have permits for each in order to hunt.
Patapsco — Great Bucolic Hiking in the Middle of the Suburbs
Patapsco is an island of calm in the midst of the bustle of suburban Maryland. The most popular hikes are relatively easy and range from the very short (0.1 mile) to a bit longer (4.0 miles).
The scenery is stunning and there's no end to activities to pair with your day of hiking.
As long as you remember the few simple rules offered by the park service, you'll be sure to have a fantastic day or overnight stay at this stunning, expansive park.