*This post may contain affiliate links. As an Amazon Associate we earn from qualifying purchases.
When most people think of California, they think of the entertainment capital of the world. They think of trendy cities and movie stars.
Little do they know that California is home to its fair share of natural wonders. One of those natural wonders is Mt. Diablo, located just over an hour from San Francisco.
The popular tourist attraction can be seen from afar, but to get the best possible experience, Mount Diablo State Park consists of a number of trails, which allow hikers to get up close and personal with mountain.
Here's everything you need to know about Mt. Diablo.
Getting to Know Mt. Diablo and the Surrounding Trails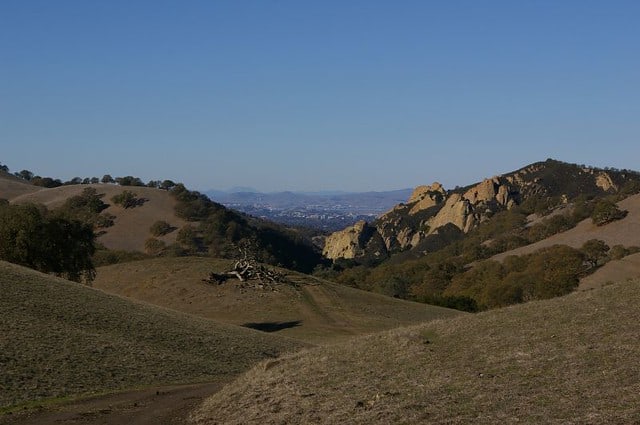 Image via Flickr
Visible from most of the San Francisco area, Mt. Diablo reaches an elevation of 3,849 feet and is surrounded only by low hills, so the view from the top of the mountain is unblocked and fantastic. In the best possible weather conditions, you can even see parts of Yosemite National Park from the summit.
This sounds great, but the question remains: how do you get up there?
The road to reaching the summit of Mt. Diablo starts at the Mitchell Ca​​​​nyon Staging Area. From here, you'll take a variety of roads and trails, by way of Juniper Camp. These culminate in the Juniper Trail and the Summit Trail, which will get you to the summit.
Once you get to the summit, 2,900 feet above sea level, the view doesn't get much better and you'll be rewarded for the soreness of your legs, just ask the San Francisco Chronicle's Tom Stienstra. The beautiful sights might even make the knowledge that you'll have to hike back down a bit more palatable. In total, it's about 13.2 miles to the summit, which will take most a little under seven hours on foot.
If you're not the most experienced hiker, guided tours are available from the Mount Diablo State Park staff.
For those unexperienced hikers who have no interest in changing, the park office has literature for sale on the history of the mountain and topographical maps, so you can sit in the shade while your family wears themselves out.
All of this makes Mt. Diablo the ideal destination for those who find themselves in California, but aren't interesting in milling about the crowded metropolitan area.
What Else is There to do at Mt. Diablo State Park?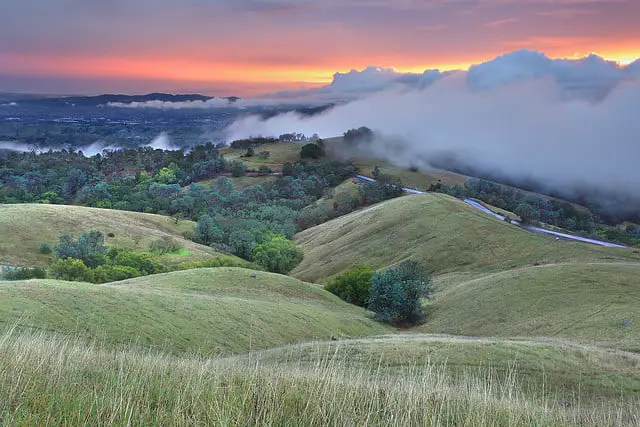 Image via Flickr
After you've visited Mt. Diablo and hiked to the very top, your appetite for outdoor adventures has probably been whetted. Luckily, Mt. Diablo State Park is home to more than just its namesake.
There's the Summit Building and Museum, which is made of sandstone and contains ancient fossils. In addition to informational videos and plenty of mementos to purchase, the outside of the museum even has mounted telescopes, so you can look out at the Sierra Nevada or your friends up on the summit.
But that's not all, the park contains several other fantastic attractions:
1. CAMPING
There are also plenty of camping areas in the State Park – 56, to be specific. If you're not looking to rough it, these campsites include modern amenities, such as hot showers and flush toilets.
Certain sites are RV-friendly, but only if they're under 20 feet.
For those staying overnight or those simply passing through, there's also 50 different picnic sites, which are stocked with tables and barbeque stoves. Some of the larger picnic areas can hold up to 100 people.
While cycling is allowed on paved roads, only three trails are available to cyclists, these being the Summit Trail, the Mother's Trail, and the North Peak Trail. So if you're a cyclist, be sure not to venture on a trail before checking to see if it's allowed.
2. ROCK CITY
If you're curious what Rock City is, it probably looks a lot like it does in your imagination. It's an area stocked with old, giant sandstone formations, which not only create strange, mesmerizing shapes, but also small caves.
The formations are so odd and unnatural looking, they almost make the rock look like goo, as much of it is rounded and filled with small air holes.
Rock city can be found by taking South Gate Road or by traversing the smaller, more out of the way Fossil Ridge Road.
It's such a dense area that it even contains its own specific attractions, such as the Wind Caves, Elephant Rock and Fossil Ridge. As its name suggests, visitors can see actual dinosaur fossils at Fossil Ridge, so it's a great area to bring the kids, or anyone interested in the history of the earth.
3. GO ROCK CLIMBING
Why hike when you can climb? If this question rings true for you, then you might be interested in the Climbing Rocks and Castle Rock, both of which are popular destinations for rock climbers.
Castle Rock is located far to the west of the Mt. Diablo summit, just off of Stage Road, near Pine Creek and the North Gate Entrance.
While rock climbing might sound fun, make sure you know what you're doing first, as GQ's Dennis Tang warns.
Park officials will inform rock climbers of all the various rules and regulations, which are extremely important to take into account. The Castle Rock area also has a park with a picnic area, a softball field and a pool, so the kids can find plenty to do if they're not old enough to go rock climbing and they're not crazy about going on a hike.
WHAT ARE MT. DIABLO STATE PARK'S RULES?
Even though you might go to Mt. Diablo State Park looking to have fun, there are still certain rules to keep in mind. These exist not just for safety, but also for the consideration of other visitors and the wildlife.
1. No Alcoholic Beverage Allowed
Sorry, grandma. There's not a single alcoholic beverage allowed in the park.
This is for the safety of the visitors, because when you're hiking up a mountain and are around steep drop-offs, you're going to want to have all of your wits about you. Besides, the park is enjoyable enough without any extra help.
2. Fires are a Hazard
This is California, after all, where wildfires are a regular danger, with 2017 being the most destructive wildfire year on record, according to the Sacramento Bee.
The air is very dry in Mt. Diablo State Park, which means fires will catch far more easily than they will in more humid areas.
At certain extreme weather conditions, smoking and campfires will be prohibited, in order to curb any possibilities of something catching fire. However, fires are always allowed in the campgrounds' barbeque pits or your portable camp stove, should you have one.
You will have to bring your own fuel, as collecting firewood in the park is not allowed.
3. Watch out for Nature
Even though some hiking experts recommend bringing various bars and gels, we generally don't recommend these unless you're hiking for an extended period of time. We think these food sources are often loaded with preservatives, oils, and refined sugars. This makes them actually counteractive to hiking, as consuming these things could drain your energy by leading to poor digestion.
Poison oak is present all around the park, so watch your step. Poison oak can cause a painful rash and is highly contagious, so even if a piece of your clothing hits a bad bush, then it can still make its way over to your leg.
To avoid poison oak, it's best to stick to the trail paths and avoid from venturing into the unpaved areas, as enticing as they might seem.
Plants aren't the only thing you should be looking out for. Plenty of animals call the park their home, so try and be a gracious guest, as if you were taking a tour of your neighbor's home.
One of the testier inhabitants of the Mt. Diablo area is the rattlesnake, who you will definitely want to avoid. Luckily, they live up to their name, so if you hear the rattle, skedaddle.
One of the other creatures you'll want to avoid is less conspicuous. Ticks are found all across the park, and they'll burrow into your skin and make a meal out of your blood.
While they're incredibly difficult to avoid, just try to keep an eye on your skin and yank one off if you see it. Needless to say, if you have children, you'll need to keep an eye on their skin, as well.
The Mt. Diablo's in the Details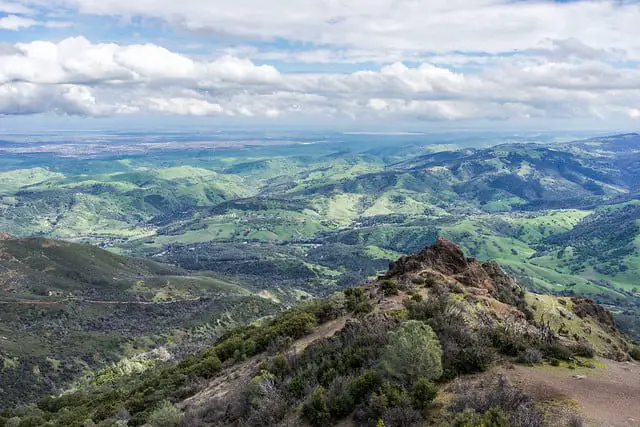 Image via Flickr
On the surface, it's easy to think of Mt. Diablo as merely being a mountain in the middle of nowhere that can be traversed. But as we've learned, Mt. Diablo is much more than that. While hiking up the mountain is a big draw and the trail up the mountain is easily accessible, the overall Mt. Diablo State Park area has many other attractions.
So if hiking isn't your idea of a good time, hang out in the Summit Building and Museum, where it's nice and air-conditioned. Or, take a stroll through Fossil Ridge and get an up-close look at some ancient dinosaur fossils.
For the kids, the Castle Rock area has plenty of outdoor fun, such as a softball field and a pool. For the adults, go rock climbing.
There's something for everybody at Mt. Diablo State Park.