Out of all the easy yet rewarding hikes there are in the Los Angeles area, the Sturtevant Falls hike holds the number 1 spot.
While it does include a steep decline throughout the first half-mile, turning into a steep incline on the way back, the trail in full is only about 3.6 miles and is suitable for most people with little effort.
You'll find Sturtevant Falls trail in Big Santa Anita Canyon, hidden within the San Gabriels Mountains, only about 12 minutes away from the 210 freeway.
While the hike is short and sweet, the falls are actually some of the most stunning in Southern California.
The algae and moss climbing up with cliff towards the running waters bring a lush and mystical appeal to the 50ft waterfall.
Also, as it's located at the foothills of Angeles National Forest, you can experience the feeling of being totally submersed in nature.
In this article, we'll outline everything you need to know in order to experience the best of Sturtevant Falls, including the very popular question of: where can you park?
Parking Near Sturtevant Falls
Let's cover this one first.
By far, the most frustrating and complex issue you face during this hike is finding a parking spot.
Since the area is extremely popular, the parking lot is almost always full.
During weekends, the parking can actually be backed up for over half a mile, which means you'll want to find a place to park and then walk to the trailhead.
It's important to make sure to take this into consideration during your hike preparations and arrive to the trailhead early. Alternatively, you could go on a weekday as well.
Also, remember that if you can't park at the main parking lot or at the $10 parking lot just past it, you'll need to keep your Adventure Pass on display in order to park on the road.
You can pick up an Adventure Pass at a Big 5 or Sport Chalet sporting goods store for either $5 for a day or $30 for the year.
Lots of people miss this point and come back from their invigorating and meditative hike to find a big, ugly parking ticket on their windshield.
You can easily avoid this instant buzz-kill simply by showing up prepared.
If you live in the area, or if you're planning on driving through, this hike is highly recommended by many people.
Not only does it provide a great escape from city life, but it's a wonderful workout for anyone, no matter your age or skill level.
Make sure you plan for at least a few hours, given the parking lot situation.
Also, you'll want ample time to take in the gorgeous scenery and relax near the waterfalls, all the while knowing with a worry-free mind that your Adventure Pass has your back at your makeshift road parking space.
Hiking to Sturtevant Falls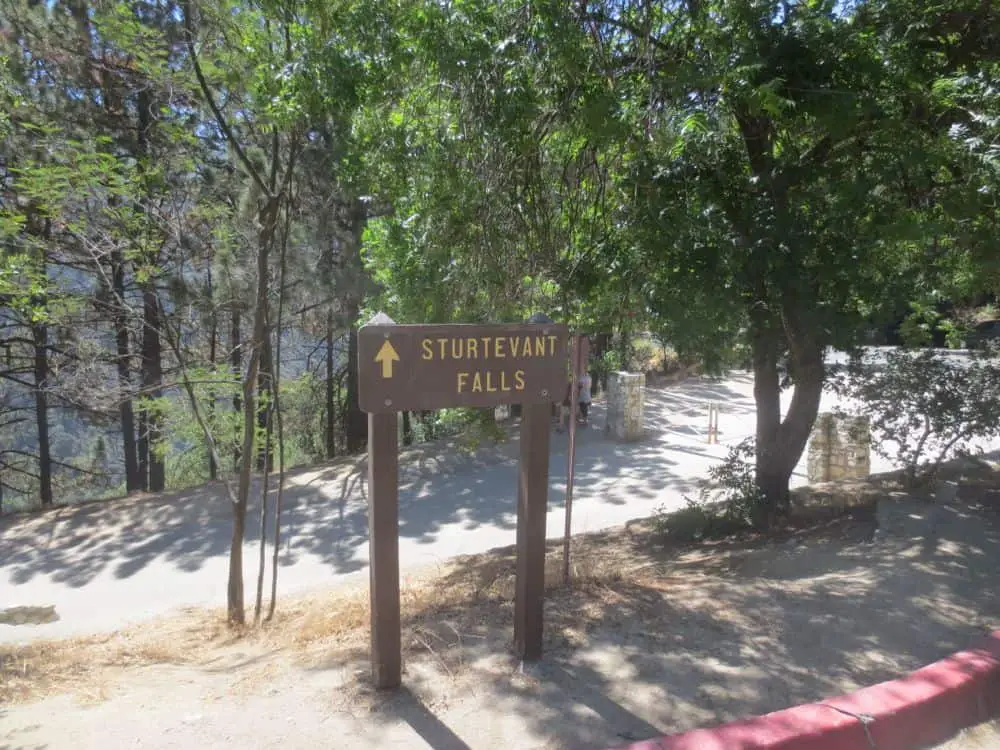 Now that you've figured out the parking lot nonsense, it's time to get to the good stuff: tips on the hike.
This hike through the Angeles National Forest provides a wonderful chance to take in a true mountain hiking experience without driving for miles or sweating through your t-shirt and undies.
While it becomes a bit crowded on weekends, the weekdays are usually more manageable.
Make sure you wear quality hiking boots or shoes that are water-resistant since there are a few foot-dunks you'll come across during the hike.
If you wish to make your hike a bit longer, you can head on over to Hermit Falls which is another wonderful waterfall in the area.
Even though the hike is only 3 miles long, with an elevation of 646 feet, it's important to come prepared with water, snacks (without plastic covers or wrappers), rain gear, and a first aid kid (can be kept in the car).
While the chances of anything happening on this easy and enjoyable hike are extremely slim, it's always good to come prepared (and it can be part of the fun, too!)
Also, if you're going alone, or with only one other person, no matter how far you're hiking, you should always take the time to let someone know that you'll be hiking and when they should expect to hear back from you.
I know, you're probably saying, "Gee that's a bit dramatic," but hear us out.
No one wants anymore 127 hours stories on the news.
You don't need to tell your friend every detail of your trip, down to the types of snacks you're bringing, but make sure you tell them how long you should be out on the trail for.
That way, if they don't hear from you by a certain time and you're not picking up your phone, they'll be able to call the proper authorities.
Chances are, on this hike, there's VERY little chance anything bad or dangerous would happen. Also, if by chance something does happen, many people walk up and down the trails all week long – just try not to steer off course.
Trailhead to Sturtevant Falls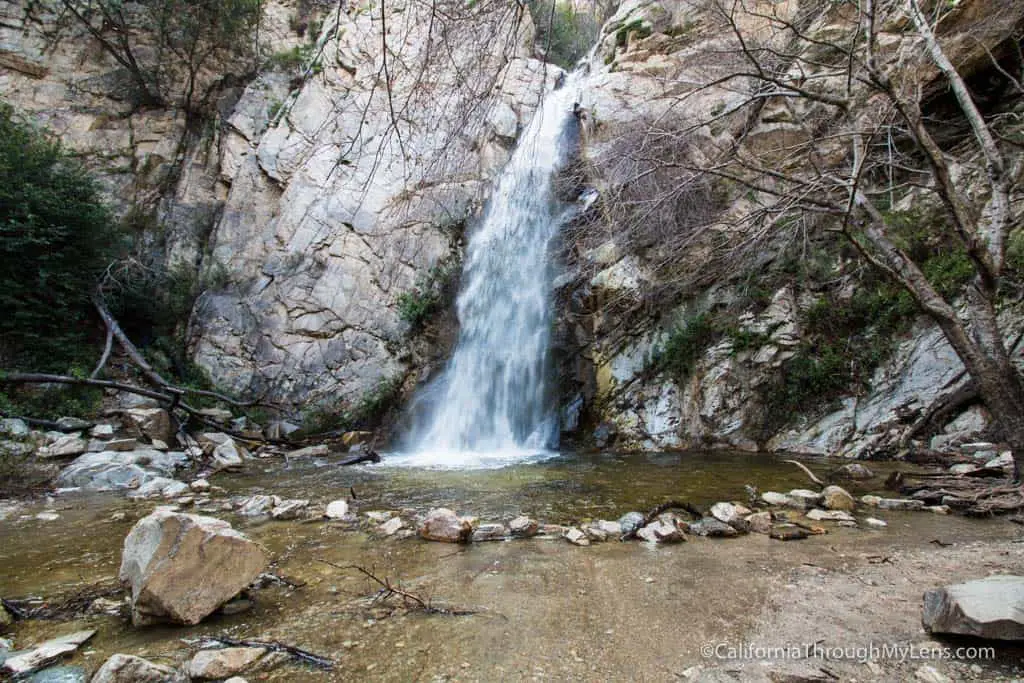 The trail begins at the sign for Chantry Flats. As soon as you pass the gate, the trail declines immediately. As we mentioned before, this is the only difficult part of the entire hike.
Once you make it to the bottom of this decline, you'll find a small bridge that you'll need to cross over along with a sign that indicates how far away the waterfall is (1.25 from that point).
At this point, you'll also begin to see a few man-made waterfalls along the trail. While they're not as magnificent as the natural one you're heading for, they're still pretty cool to see.
The trail is shaded the entire way from the bridge, offering a peaceful and aesthetically gorgeous path following the stream.
Follow the trail as it continues through the covered forest until you meet a small area of community houses.
These cute, little 15 cabins are privately owned and used on a seasonal basis. This area is called Roberts Camp.
Passing the cabin community, you'll continue along the path until you meet a water crossing. Cross over the plank of wood and rock steps if you don't want to we your shoes (however if you're wearing waterproof hiking shoes, by all means, jump in — It's an adventure!)
After the stream, you'll continue up the trail for the final quarter of a mile before the waterfall greets you with all its splendor and beauty.
The falls are close to 75 feet tall, and are almost always being enjoyed by at last a few people at the base.
Once you've had your fill of the waterfalls and have taken all the potential Instagram pictures you can muster, you can head back the same way you came.
Once you've made it back to the trailhead, all you need to do is sit back and recover from the half-mile uphill tread. Admire the last pack station in the San Gabriels which was built in 1936, grab a cold drink or coffee and take in the final moments of your outdoor adventure.
Final Thoughts: Sturtevant Falls
Sturtevant Falls is an excellent choice for a city getaway throughout the week (and on weekends if you're brave enough to spend time searching for a suitable parking space!)
If you've done this hike before and are craving for more of the area, you can continue beyond Sturtevant Falls on Gabrielino Trail towards Spruce Grove Camp.
Alternatively, you could add a side hike from Roberts Camp (the cute little cabin area) or, as we mentioned before, to Hermit Falls.
Sturtevant Falls can also be visited through the Santa Anita Canyon Loop, which is a wonderful and perfectly challenging 9.5-mile trek into the San Gabriel Mountains.
Also, in case you were wondering, dogs are welcome to this area as long as they're on leash.
Like most waterfalls in the Southern California area, the falls popularity and splendor makes them an experience to remember.
However, it also means they're falls to remember for a lot of people eager for a city getaway, and who have caught wind of their beauty.
So if you decide to go on a weekend, don't be surprised by the flocks of people surrounding you, trying to catch the same Instagram photo.
Nonetheless, this hike is still one for the books, for its decent amount of exercise, scenery, and rejuvenation for the body and mind. Also, given its proximity to the city, it's definitely a winner – crowds or not.
And like they say, the more the merrier, right?