*This post may contain affiliate links. As an Amazon Associate we earn from qualifying purchases.
​As many of you nature-loving hikers already know, hitting the trails in the right pair of shoes is key to a great time on the path. While you love being out in nature, soaking up the natural world, you also need to be comfortable with the right support to build strength on the trails that you aren't building while you're running on the road. 
Heading out into the great outdoors can provide you with natural challenges like jumping across waterways, rock climbing, and navigating natural terrain. Whether you're a casual hiker or an experienced backpacker, we want to have you hiking in the comfort, style, and support you need for any excursion. 
Among the many brands of hiking shoes and attire, you'll find Oboz trail-worthy hiking footwear. There are a great, addition to any trail runner's closet. Let's get started with a little bit about the company and the shoes they make. 
Who Is Oboz?
Made up of industry vets and outdoor enthusiasts, the Oboz company is a small, Montana based company focused solely on designing footwear worthy of the great outdoors and active trail-enthusiasts. Before forming their own company, they spent their time not only in nature learning what a great shoe is made of but helping other brands build the best outdoor shoe. 
As they mountain-biked, hiked, and spent much of their time outdoors, they learned what made a great hiking shoe successful and what a poor shoe lacked. They decided to start building their own in 2007, and the rest was history.
What Does Oboz Offer That Other Brands Don't?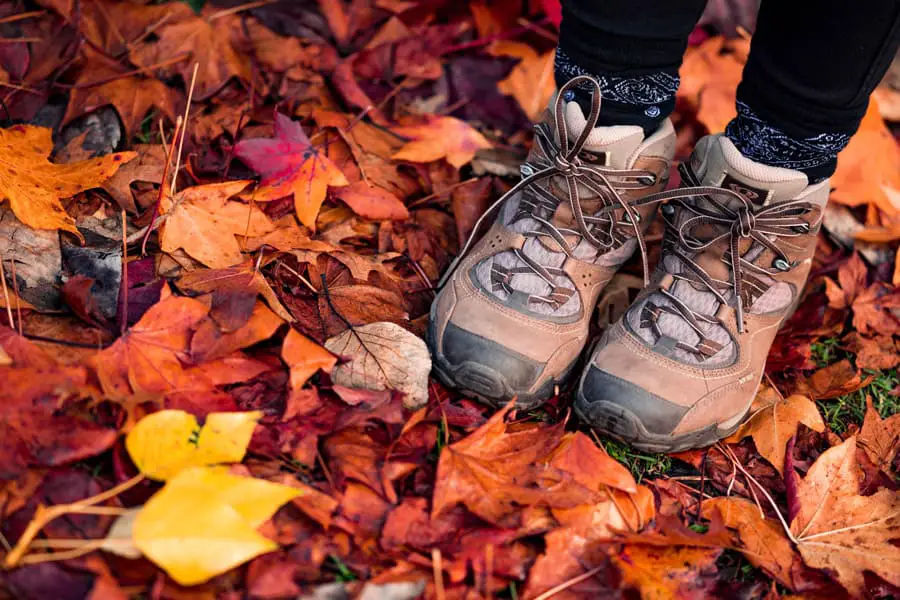 ​Image Sourec: Unsplash
It's a common thought that a hiking boot is going to have a break in period, a small time of discomfort while the shoe molds to your foot and gives you a great, comfortable fit. Oboz takes the time to build their outsoles, footbeds, midsoles, and even their tread pattern. Each design is made specifically for the model of shoe, allowing a more precise fit out of the box, cutting down on the break-in time. 
You also won't be worrying about losing any of the benefits of individual components in each style of shoe as all footwear are designed with components built to last the life of the shoe. With the perfect heel support throughout the line, you'll maintain a snug fit and heel cradle while the front of the shoe is designed with the comfort of your toes in mind. 
Never have scrunched toes again, there's enough space for your toes to spread naturally as you move through the natural world. Backpackers and hikers alike know this feature alone is worth its weight in gold, cutting down on fatigue and allowing more time on the trail.
As mentioned earlier, the makers of Oboz have been helping other brands build components of their hiking shoes for some time. Where that adds serious value to your purchase is that you get the Bfit footbed in any shoe purchased from their line. You'd typically pay more for this after-market insert, but instead, you'll get a custom one specific to model and size in each pair you purchase. 
What's Special About the Bfit Footbed?
•    Delivers a consistent fit
•    Perforated breathability
•    Structured heel cup
•    The right balance of stability and cushion
What Is BDry?
Bdry is the proprietary weather protection that Oboz has gone above and beyond to deliver with each of its' waterproof shoes available. Each waterproof shoe in the line is made with the Bdry waterproof membrane which is individually tested before assembly. 
What Are the Benefits of the Waterproof Models of Oboz?
•    Individually tested Bdry waterproof membrane
•    Hydrophobic uppers
•    Wicking interior lining 
•    Designed to keep dry inside and outside
What Can You Expect to Pay When Purchasing Your Perfect Oboz Trail Shoe or Boot?
Oboz brand products can be found between the price range of $30 to upwards of $190. What you should know is what you'll get in each typical price bracket. On the low end, at the $30 you can find some of the O Fit Insoles, in both men's and women's, that you might purchase to extend the life of another shoe or make it more comfortable. 
In the $60 to $100 price range, you can find both men's and women's casual flip flops and sandals built for comfort, a casual walk in nature, support around your campsite, or spending some time in a bit of water. 
Moving into the upper price bracket of $100 to about $185, you're going to find your sturdier hiking shoes and top-quality hiking boots. With some of the women's shoes and boots, you can hope to remain in the lower part of that price bracket, while towards the upper end you'll find the men's shoes, boots, and the sturdiest of the women's boots. 
Let's Talk Specifics
Now that you know who Oboz is, what they're all about, and the quality you'll find in their hiking footwear, let's get down to the best of the best. Before we get down to our best picks, we're going to get into a little bit more about what each shoe is designed for. What works best for you and your time in nature might not be what's best for someone else and how they spend their time on the trails. 
There are four things you should consider when choosing the style and model of boot you'll take with you. For starters, considering the unique needs of the activity, you'll be doing. Aside from that, think about the height of the shoe or boot, and of course, the outsole. 
Most importantly, you should consider your strengths and weaknesses. For the same activity, someone with more calf strength and developed balance may not require the same support someone wobbly on their feet may want. 
Now, if you're ready to get started, we're going to give you the rundown on our top two favorite models. We'll include one low ankle and one mid ankle, each, for men and women.
Top Picks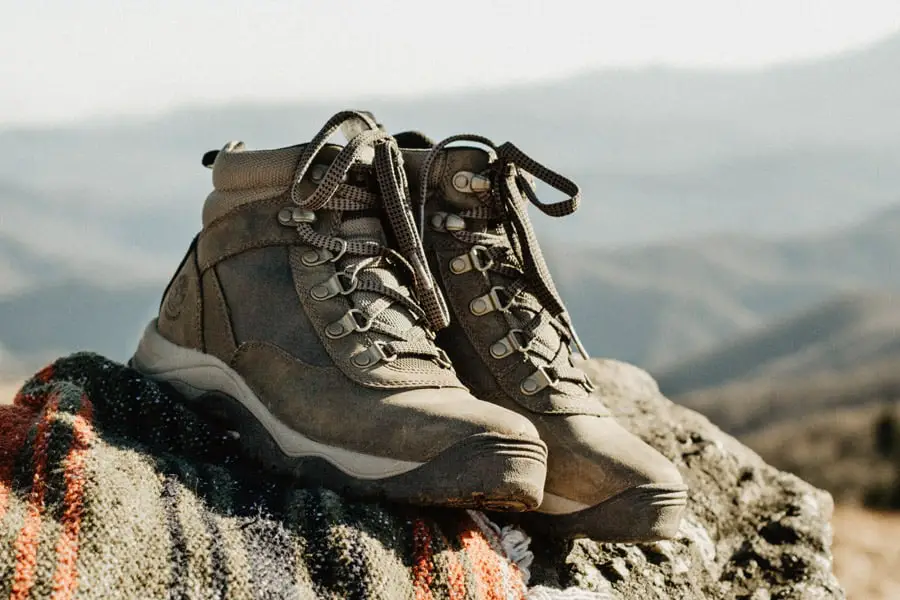 ​Image Source: Unsplash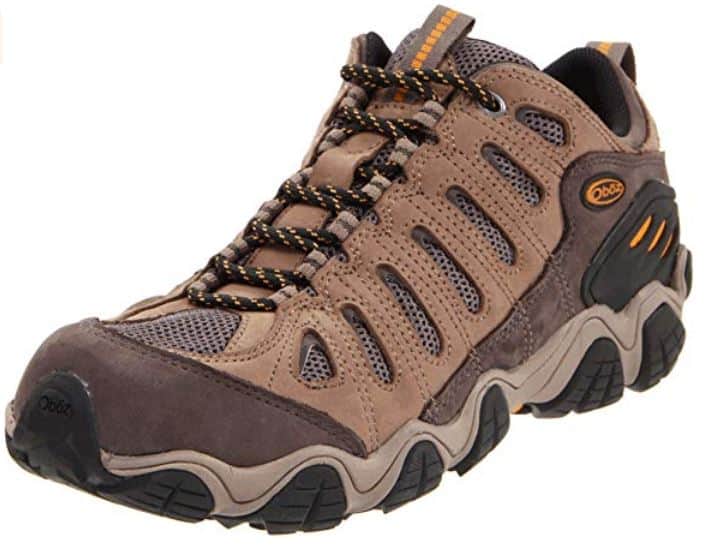 ​Via Amazon
PRICE
​$99.95 – $192.15
​RATING
​4 out of 5 stars
Features
O Fit Insole: Superior arch support, maximum stability, and heel support. The moisture-wicking top layer, perfect underfoot comfort, and shock absorption all built into the insole. 
Sawtooth Midsole: Lightweight and durable outsole provide protection and torsional stability. Midsole designed for cushioned support between feel and forefoot. 
Sawtooth Outsole: Flexible, supportive, and versatile. 
B-Dry Waterproof:Whether its sweat or water on the trails you're worried about, perspiration can escape while keeping water out for a dry fit inside and out. 
Why We Chose It
This shoe is comfortable and supportive without being overly burdensome and makes an excellent choice for hitting trails. The outsole is great for shedding mud while the midsole offers plenty of cushions. This shoe is lighter weight, perfect for both backpacking and day hiking. 
They ventilate sweat reasonably and efficiently while still keeping your foot cushioned and protected from natural elements like rocks, roots, and of course, water. 
If you're concerned about having enough toe space, you can opt for a half size bigger than your usual size, but for most, they provide adequate spacing in the toe box. For carrying a decent sized pack under 20 to 30 pounds, you won't have an issue getting plenty of happy, comfortable miles out of these.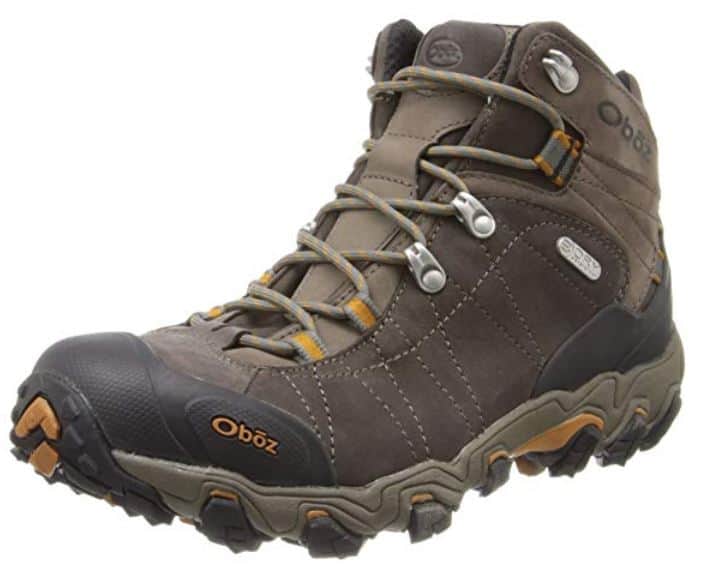 ​Via Amazon
PRICE
​$​$
​RATING
​4.5 out of 5 stars
Features
O Fit Insole: Designed to keep your foot positioned neutrally, deep heel cup provides support and stability, while maximizing shock absorption. Comfortable, the moisture-wicking top layer and great underfoot comfort. 
Granite Peak Midsole: Designed perfectly to streamline the outsole while offering only the best stability and protection. Added nylon shank provides additional support to between the forefoot and heel. 
Granite Peak Outsole: Offers superior support from the elements. Granite Peak, Montana's tallest peak is featured in the bottom outsole adding grip and protection to the rest of the shoe. 
B Dry Waterproof: Neither sweat nor water is an issue in this shoe, with moisture-wicking and water protection throughout. 
Why We Chose It
These are the perfect boots for uneven terrain, heavy loads, and long hikes. They're built with quality materials and precision in mind. They have a shorter than average break-in period, and we didn't notice any issues with pressure points around the ankle or foot. They're also true to their name and waterproof straight from the box. 
The midsole in this boot is superior; you can count on being comfortable throughout the length of your hike no matter the terrain. It has an impressive all-around fit, lacing the toe box as slack or tight as you like while still being able to enjoy the locked ankle support.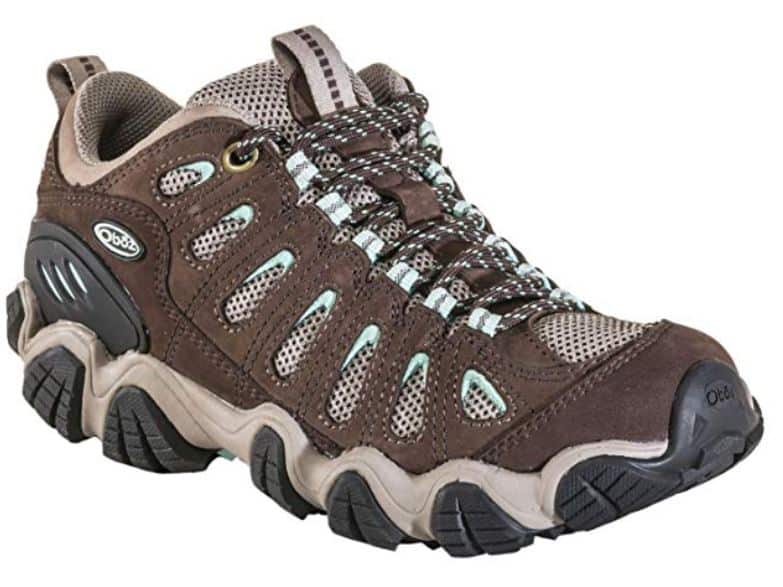 ​Via Amaz​​on
PRICE
​$​
​RATING
​​5 out of 5 stars
Features
Fit Insole: Superior support provided with the high-density EVA sculpted arch. Deep heel cup allows for the perfect amount of stability and support. Underfoot support, shock absorption and a moisture-wicking top layer provides comfort, no matter the distance traveled. 
Sawtooth Midsole: Lightweight, firm midsole designed to give outsole streamlined comfort and ability. Additional nylon shank provides extra support between forefoot and feel. Provides cushion and support you need with perfect balance. 
Sawtooth Outsole: Flexible, supportive, and versatile, this outsole with getting your through most terrain, comfortably. 
Breathable Upper: Oboz uses moisture-wicking fabrics to keep skin dry and damage free. 
Why We Chose It
This shoe has an excellent, rugged sole that's great for most terrains and will keep your foot protected from rocks and other debris you may encounter. They provide great grip, extra cushion, and a sleek fit. As most hikers will tell you, the toe box can be an issue in some hiking shoes but these were great right out of the box with plenty of space for toes to spread naturally, and little to know a break in period. 
They offer up a snug heel, excellent ventilation, and comfort that lasts the life of the shoe. You won't have an issue with sweat even after long, multi-mile hikes. For those doing a bit of jogging on the trail or running, we found these to be lightweight with a tight enough fit to be comfortable both walking and running on multiple terrain styles.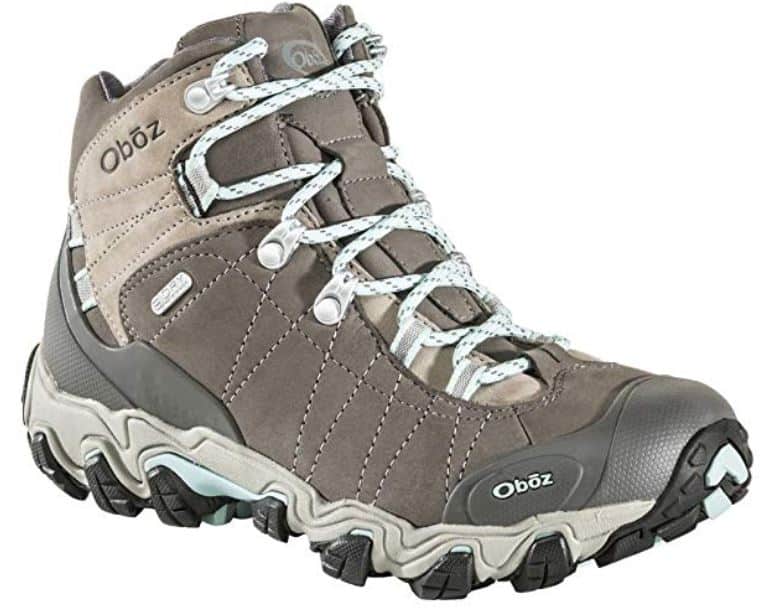 ​Via Amazon
PRICE
​$109.94 – $180
​RATING
​​5 out of 5 stars
Features
Fit Insole – Deep heel cup provides the perfect amount of support and stability. The high-density EVA sculpted arch offers superior support. Shock absorption, underfoot support, and a moisture-wicking top layer provide comfort through any distance. 
Granite Peak Midsole – Designed for precise protection and torsional stability. The lightweight, firm, and balanced with both added support and cushioning. 
Granite Peak Outsole – Don't worry about the terrain you're covering because you won't feel a rock, branch, or pebble, the outsole is designed for the perfect traction and protection from the elements. 
B Dry Waterproof – Mud, water, and sweat are no match for the waterproof membrane and moisture-wicking fabrics that let sweat out and don't let moisture in. 
Why We Chose It
Whether you're hitting the trails walking, running, in the snow, or on dry land, this boot was built to keep you comfortable and battle fatigue. This is a sturdy boot that will allow you to carry some weight over rugged terrain or keep you feeling supported and dry over a lightweight, multi-mile walk. 
You'll be happy with the snug fit of the heel while the toe box has plenty of room to keep your toes from hitting the top or becoming cramped. If you like to wear a thicker sock or know your feet tend to swell during long hikes, you can opt for a half size bigger, but it's not necessary.
Conclusion
When you're purchasing quality hiking gear, you know that the higher upfront investment is likely to cost you less in the long run when your quality gear outlasts any of its cheaper competition gear. Oboz Hiking Boots offer superior workmanship throughout their line.
​Featured Image Source: Pixabay