*This post may contain affiliate links. As an Amazon Associate we earn from qualifying purchases.
At 189 meters, this cascade is considered s​​hort in comparison to Yosemite Falls. However you're unlikely to find anything close to it in your neighborhood.
​​​​​​Bridal Veil Falls is famous for its dreamy mist that sprays when breezes blow by, which gives it its bridal veil appearance, hence the name.
When we say spray, we don't mean a light sprinkle..
If you're brave enough to venture down towards the bottom of the falls during runoff season, be prepared for one of the roughest showers of your life. And don't bother bringing soap – the waterfall will claim it for its own.
This gorgeous waterfall trails out of Lake Serene and tumbled down below the eastern wall of Mount Index at the west side of Bridal Veil Creek trail.
While on this trail you can take a moment to enjoy the absolutely stunning view of Bridal Veil Falls, and if you're feeling up to it, climb the flights of steps following along the falls for a magical experience.
If you have kids, they will be amazed standing beside the cascading water, looking up at the 100-foot rock cliff to watch the billows of water pouring out right next to them like a veil. Then, watch it as it disappears into the wide opening of the North Fork Skykomish valley and the Index Wall.
The secret is out on Bridal Veil Falls' beauty, however.
That means the parking lot and trail may tend to overflow during summer months, especially weekends.
In this article, we will outline everything you need to know in order to visit these magnificent falls to soak up their beauty (and splashes) uninterrupted and care-free.
THE HIKE: HOW TO GET THERE
First thing's first, in order to experience Bridal Veil Falls, you'll need to know how to get there.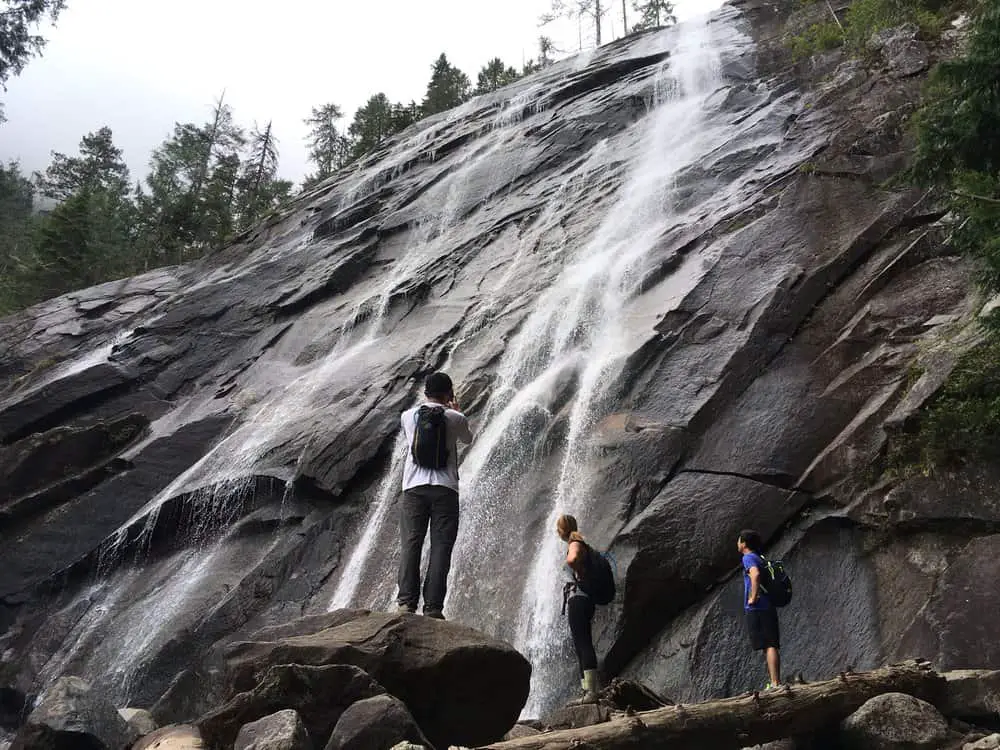 If you live in the area, chances are you have a basic idea on their whereabouts, since they tend to be the talk of the town.
However, if you're from out of town or if you want to know more detailed directions, we have you covered. 
Driving Directions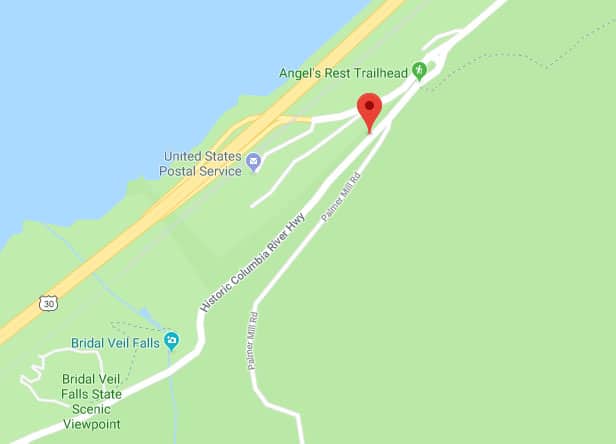 To get to the trailhead, if starting from Everett, go east on Highway 2 to reach the town of Gold Bar.
Carry on from here, following Highway 2 for 7 miles. As the road begins to curve left, revealing a large bridge overarching the Skykomish River, you can then turn right onto Mount Index Road.
Continue on this dirt road for a quarter mile, the turn right once more, while following the signs to Lake Serene Trail 1068. You'll see the parking lot 500 feet ahead.
Since the trail and waterfall area can be quite cramped during summer season on weekends, consider visiting the Lake and Bridal Veil Falls on a weekday.
Once you reach the parking lot, you'll notice how packed it becomes, if visiting on a weekend. Due to the massive popularity, you'll often see more cars than the trail can actually accommodate.
Also, be aware of the No Parking signs. If you need to park up at the side of the road, make sure to pull off far enough to let any emergency vehicles or traffic pass.
Once you find a parking spot, you can begin on your exciting journey towards the falls. 
The Hike to Bridal Veil Falls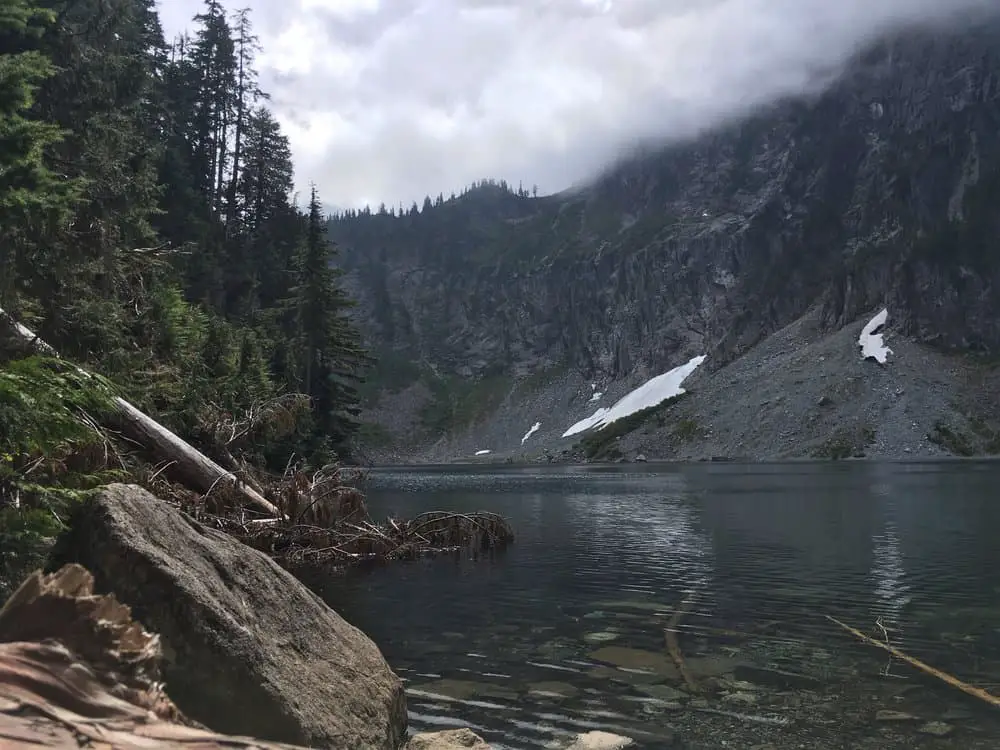 The trail begins very mild, leading you down an abandoned road for ¾ of the way through an alder, mossy maple, and old growth conifer forest.
Be aware that it can become quite wet in areas as small streams cross by.
At about 1.5 miles, Lake Serene trail forks off. To the left, you'll see it crossing over a bridge, viewing the lower falls.
Make sure to stay right at the fork and follow the trail as it climbs through rocky stretches, up many stairway. And then, at about two miles, you'll find the end at the stunning Bridal Veil Falls.
The perfect finale to your Lake Serene hike. 
Facts on Bridal Veil Falls
By now, we've covered a lot of points you should know about visiting Bridal Veil Falls: how to get there, when to arrive, important notes about the (nightmare-ish) parking area, and how to follow the trail to meet the falls at the end.
While this may be enough for most people, we've also gathered some extra tidbits so you can become an expert at Bridal Veil Falls. 
Best Time to Visit, Hiking Time, and Crowds
The best time to visit Bridal Veil Falls is in the Springtime when snowmelt is at its peak, rushing over the cliff edge, making you wish you brought your swimming goggles due to the immense amount of mist.
In fact, the mist is known to reach visitors from over a quarter mile away!
It takes about 15-30 minutes to hike up to Bridal Veil Falls. As we mentioned earlier, the crowds can become quite heavy, some say as heavy as the waterfall itself.
It's similar to Yosemite Falls in this sense as this is a site where almost every tour bus is sure to stop. Therefore, crowds will come through in flocks. 
Amount of Difficulty, Nearest Conveniences, and Danger Warnings
This hike is easy and many hikers and bloggers give it a difficulty score of 1 out of 10. While there's a bit of incline and the spray soaked pathway can be a tad bit slippery, it's a hike that almost anyone can accomplish.
The nearest bathrooms are near the parking lot, although they are far from a queen's throne.
The nearest bathrooms with plumbing can be found in Yosemite Village about five miles east of the entrance.
In terms of grub, your best bet is again at Yosemite Village. Try to bring wrapper and plastic-free snacks and beverages with you.
A warning to hikers and visitors, the slipper rocks can catch you by surprise. As you approach the falls, you'll notice the ground become a bit more moist. During runoff season, there can even be up to an inch of water running over certain areas of the trail.
Make sure to bring hiking boots or shoes with good grippage and watch your step! 
Best Views of Bridal Veil Falls
The best views around aren't at the end of the trail, near the end tip of the waterfalls.
During spring runoff season, there's so much mist flying around, the only people who will actually go to the base of the falls are tiny children, by demand of their parents who would rather a cute waterfall mist picture than stable nerves.
If you're not as brave as these children, we have a few other routes for you to consider: 
South side Drive  
Drive the hundred meters east of the parking lot and you'll find the El Capitan Vista where you'll see cars parked on the shoulder of the road. You'll also notice it by the pink balloon on the Bridal Veil Fall trip map.
Although this is El Capitan, if you head north, you'll be able to get great views of the Bridal Veil Fall there as well. You'll also be able to find an alternate trail. 
From the Tunnel View
A mile west, following Highway 41, you'll find the tunnel view of the Bridal Veil Falls.
The trick with this view spot is being able to get through the people and find a clear opening not obstructed by trees.
If you can do this, you've won the game! 
Gates of the Valley
At this spot, you have a somewhat similar view to the tunnel view, however, at a lower elevation, with the Merced River in the scene.
Try getting yourself up a bit higher (hint, use the hood of your car!) to get the best view of the falls.
While it's not the closest view, it definitely is a beautiful one, all around.
Final Thoughts on Bridal Veil Falls
Now that you know more than most on how to get to and enjoy Bridal Veil Falls, it's time to put your knowledge to the test.
While this area can be extremely busy, it's for good reason – the falls truly are magnificent. Remember to bring your own snacks (plastic or wrapper-free!) toilet paper, good hiking boots or shoes (preferably waterproof), a rain jacket, and depending on which season you're visiting in, potentially some water goggles.
No joke.
Also, please note that Bridal Veil Falls is closed until late summer 2018 for operations and logging work being done in the area.
Don't listen to TLC – go chase those waterfalls!