*This post may contain affiliate links. As an Amazon Associate we earn from qualifying purchases.
The best hiking poles help you to maintain balance on uneven terrain. This list will include several of the best hiking poles from different hiking tool brands. Each hiking pole should help you stay upright on the trail, and the best hiking poles should feel natural in your hand over long times spent on the trail.
COMPARISON TABLE
[amazon box= "B002IAH0T4,B07CRZ974L,B07MX24KHZ,B07K361V95,B07BXD9224,B07NPFSG8Z,B07FWP8K52″ template="table"]
BASIS FOR THE REVIEW AND EACH SELECTION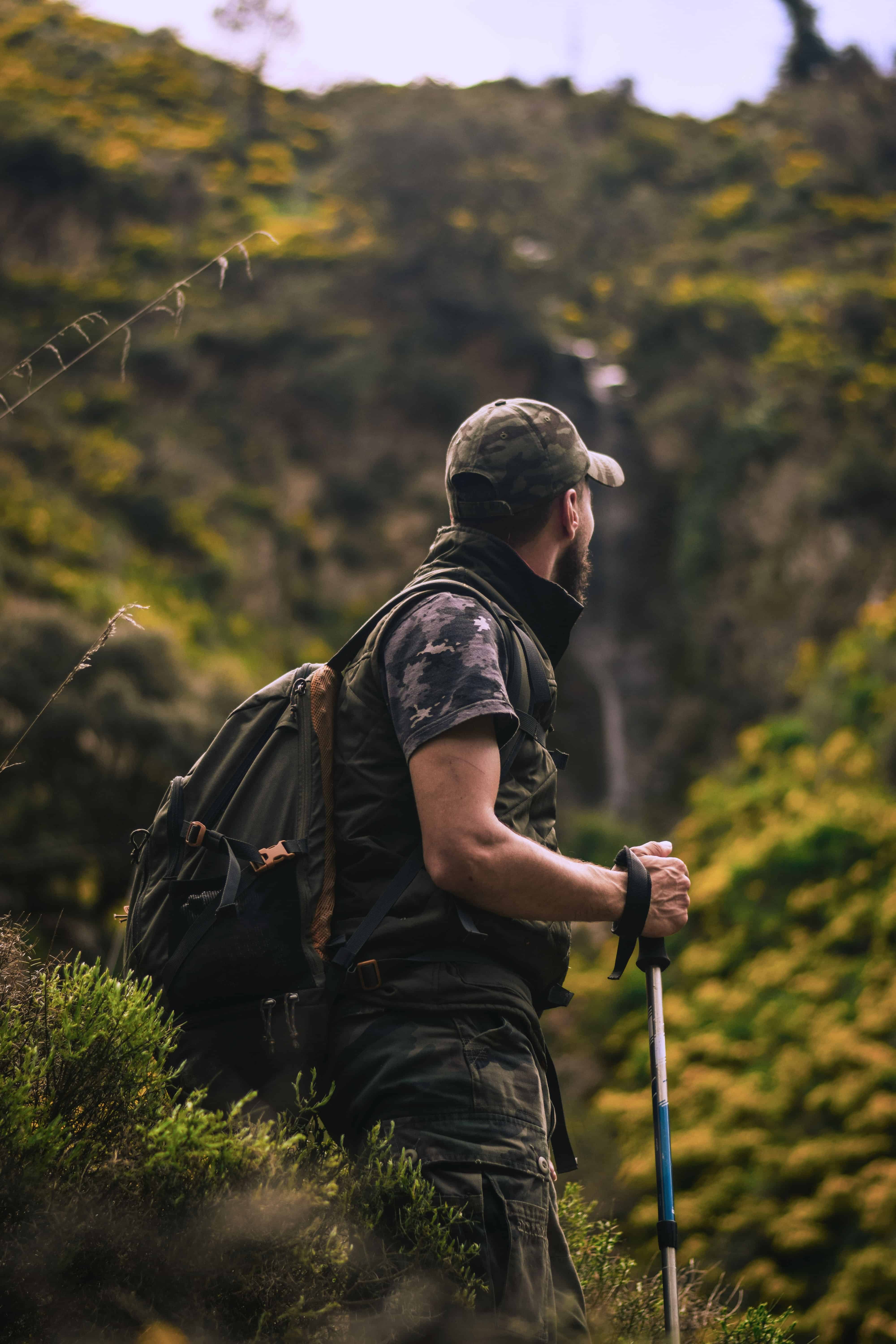 Photo by Amine M'Siouri from Pexels
A number of the best hiking poles were reviewed to ensure each entry is worth consideration. They were measured based on the ability to stow the poles when they are not in use, their durability, the adjustable length for hikers of different sizes, and more.
When rating each hiking pole, the feedback of testers and other reviewers were considered. These were combined with the initial rating so that every product on this list has been approved of by some degree by everyday users and reviewers.
THINGS TO LOOK FOR
Image by James Wheeler from Pixabay
When choosing a hiking pole, there are several factors that can make a good pole a poor choice for you. The first factor is the weight of the pole, which can vary greatly. Heavy poles will offer more support but can be more exhausting to carry through difficult hikes and up long trails.
The material is also important — the material the hiking pole is made from will factor into its weight significantly. The material a pole is crafted from usually gives a pole it's sturdiness as well, so choosing a pole with flimsy material may mean choosing a pole that won't last as long.
Since your main point of contact with a hiking pole is the grip, finding a comfortable grip is important. Over long hikes, a bad grip can cause sores and hurt your hand, so the best hiking poles often use a different material at the top to better protect your fingers.
The end of the hiking pole is important. Pointed ends are useful in dry dirt, but may sink into the mud and ruin a pole. Wide mud basket tips don't give you a firm grip on stone, but spread the pressure out and reduce sinking in mud. A hiking pole with multiple tip options will be more versatile and naturally more attractive for regular hikers.
Finally, a hiking pole can be either noncollapsible, telescopic, or a folding pole. Folding poles can be bent at hinges and folded up, but this creates strong and weak points through the pole that distribute impacts less evenly across the pole. Telescopic poles collapse inward and are the most portable, but the hollow interior makes them slightly less durable.
TOP 7 HIKING POLES
Here are the hiking poles that stood out when compared to their rivals. Products from eBay, Amazon, and many other sales websites were reviewed. Different brands and designs were also taken into consideration, and below are the survivors of this rigorous testing.
[amazon box="B002IAH0T4″]
Black Diamond hiking poles are an extendable model that uses a thick carbon material. They might not be as easy to pack up and take with you as foldable hiking poles, but they are stronger than most hiking poles by a significant margin.
This pole is longer than most three section designs. You can use the clamps on the pole to lock it in place once you've adjusted the telescopic pole length, which will prevent slipping or collapsing at the wrong time.
The handles are made of cork, which gives a good grip even if it feels a bit rigid. The thick material that makes this pole especially tough does make it weigh a bit more than average, though.
If you want a strong, lengthy hiking pole, then this is an excellent recommendation. A couple of extra ounces will feel all the heavier over a long hike though, and it's not as easy to store as sectioned poles can be.
[amazon box="B07CRZ974L"]
This is the most versatile hiking pole pick you'll find. BAFX sells these Adjustable Anti-Shock Hiking Poles in pairs, and each set comes with some accessories.
Each pole comes with rubber tips meant for use on pavement or hardened terrain to reduce stress on the body of the pole. They come with alternate carbide tips though that are meant for breaking through clumped dirt, use in gravel, and other tough natural settings.
The whole body of the hiking pole is crafted from aluminum, so each pole weighs around twelve ounces. The adjustable length makes them a viable choice for hikers between the height range of 3'6, and 6'4.
The poles come with mud baskets. If you want to trek through wet environments, putting them on the end of the poles can help you avoid sinking into soft ground. Each pole also has a built-in shock absorber that makes them a good choice for hikers with joint problems who want to reduce the stress on their body.
The curved handles are made of a grooved rubber that steers sweat and rain away from your hands. A pair of wrist loops help you to avoid dropping or losing either hiking pole. Overall, the number of functions and accessories of these hiking poles is second to none, but it is a bit easier to break as a result.
[amazon box="B07MX24KHZ"]
Unlike telescopic poles, the Paria Tri-Fold can be folded at three points to pack it away in an incredibly small area. When fully folded, the remaining segment should only be one foot to fifteen inches long, and only one to two inches thick. This makes it possible to stick it in a bag or other carrying case with ease.
Each segment of the pole has a flick-lock that allows you to adjust its length. This allows you to choose the height of your hiking pole to ensure it matches your height.
The Paria Tri-Fold has foam handles. The light material makes these hiking poles weigh less than ten ounces. Foam handles also tend to be softer and easier on the hands than cork or other handle materials, which you may prefer.
Unlike telescopic poles which have to have hollow spaces inside so they can fold upon themselves, these poles are made of aluminum through and through. This makes them a more durable alternative most of the time, and it's significantly harder to dent or break a section of the pole.
[amazon box="B07K361V95″]
Montem's Ultra Strong Hiking Poles are a telescopic hiking pole with lever locks. They are a bit shorter than most hiking poles, but you can adjust their length. They have the smallest minimal length of any hiking pole recommended here, making them the best choice for young or short hikers.
The handles are made of foam, which makes them more comfortable than many telescopic hiking poles. The poles themselves aren't very light though, coming in at around nineteen ounces. There is also no shock absorption in the material, which can tire your hands and joints if you're using them on, especially tough terrain.
There are no special end attachments for these hiking poles. This means they're a good choice for moderate hiking. When you have to hike in especially adverse terrain though, Montem's hiking poles won't be quite as useful as others on this list.
[amazon box="B07BXD9224″]
High Stream Gear built these hiking poles from a lightweight aluminum used in the military. They seem to like this theme, as the default handles have a camo pattern reminiscent of an army uniform. The overall design takes compact, long distance hiking into account based on feedback from military recruits.
These hiking poles can be folded up segment by segment. The final, folded length is only about fourteen inches. If you don't want to fold them up entirely and put them away, you can hang the poles instead.
These poles come with attachments for your belt. Place the pole into the loop on your belt, and you can temporarily free your hands without dropping your hiking poles.
The High Stream Gear hiking poles have one of the best customer service plans for any hiking pole manufacturers. They promise a one-year return policy that allows you to return the product for a full refund if you don't think it meets your needs. 
These have a significant weight for hiking poles, but they are incredibly durable as a result. The toughness, ability to store them in small spaces, and the freedom of movement provided by the holders on your waist make this one of the easiest hiking poles sets to manage during a long trek.
[amazon box="B07NPFSG8Z"]
These are the shortest hiking poles on this list for a good reason. Each of the YOURJOY hiking poles is designed for short or young hikers, to help promote the hobby to those just learning to hike. It also serves as an option for hikers with different body types and helps reduce the stress of hiking for those who have shorter legs.
Some of the stand out features of the YOURJOY hiking poles are clear design choices made to attract younger hikers. These poles have a very wide variety of colors and decals, so you have a lot of visual aesthetics to choose from. This can help to entice children, not in the habit of hiking to give it a try more often.
There are also multiple accessories to mitigate some hiking problems. There are rubber and mud basket end caps to help deal with difficult terrain. The poles weigh less than a pound combined, and the shaft includes an anti-shock feature to reduce wear on your arms.
The YOURJOY hiking poles are intended to make hiking accessible for the widest range of people possible. These poles specifically can't extend to meet the length most adults require in a hiking pole, but serve as an excellent first set of hiking poles for growing hikers, and as a reliable pair for shorter adults.
[amazon box="B07FWP8K52″]
The Cascade Mountain Tech Carbon Fiber Quick Lock Trekking Poles is a set of hiking poles designed for those who need to carry the absolute bare minimum weight. These poles clock in at under one pound, making them as light as the YOURJOY poles. They are very long though, easily meeting the length requirements for most adults.
The poles are made from a carbon material, which is why they can be durable enough for hiking and yet remain light. The Cascade Mountain Tech Carbon Fiber Quick Lock Trekking Poles are designed for established trails and distance hiking.
The tight wrist wraps and foam handles further reduce the stress on your hands and wrists. These poles are telescopic and use a twist lock to stay in place, which doesn't require as much wrist strength to tighten as other locks.
They are more susceptible to blunt damage though and can be bent or broken when used in difficult hikes or awkward slopes. Cascade Mountain will replace broken segments of a hiking pole, and their customer service is above average. The poles are known for being more expensive than average, but they fulfill a role that very few other hiking poles can.
THE VERDICT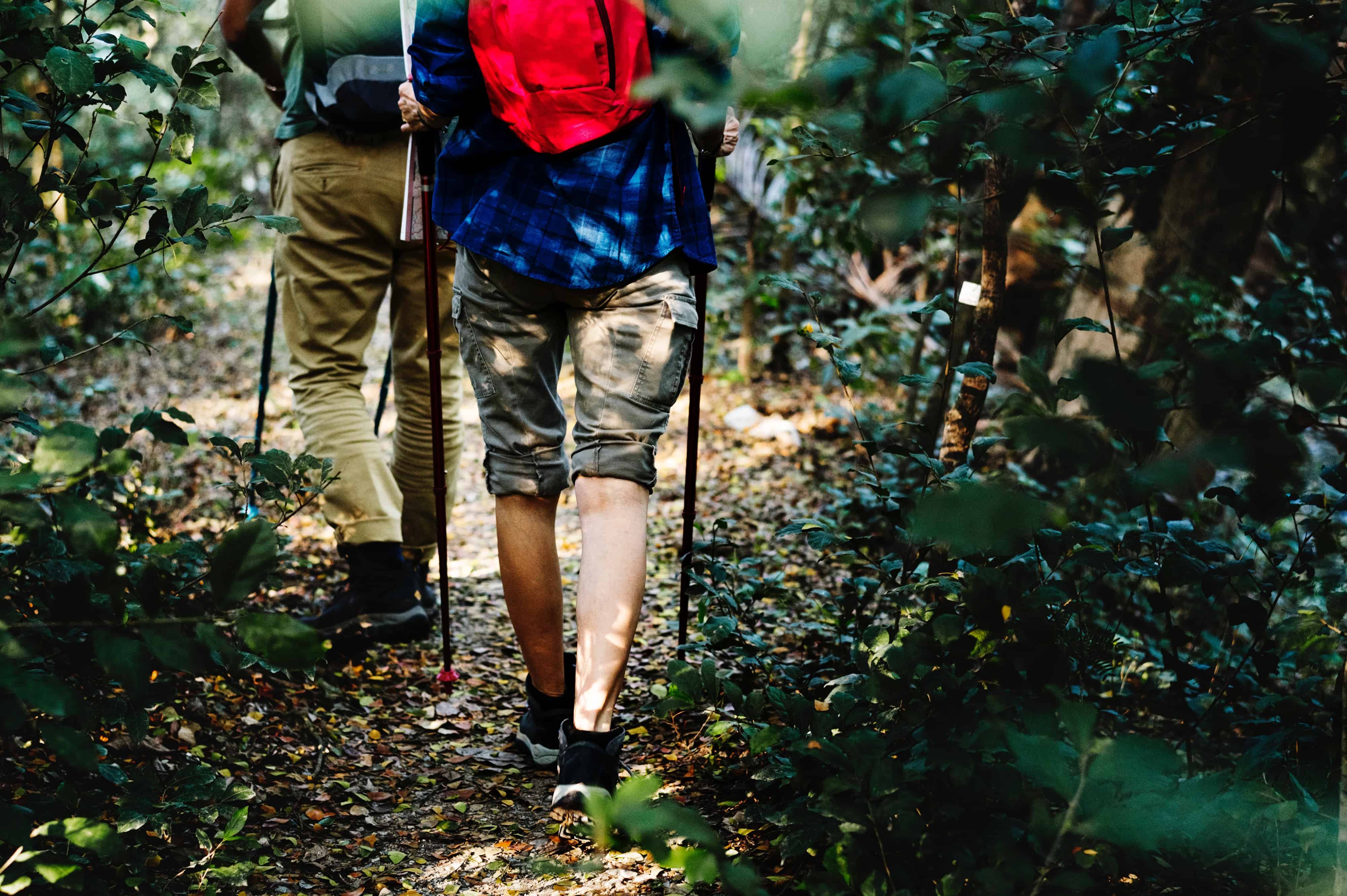 Photo by rawpixel.com from Pexels
The best hiking poles overall are probably the BAFX Adjustable Anti-Shock poles. Most of their features can be customized or removed to fit your needs. The many features do leave you with a lot of pieces to navigate, but it has the most applications as a result.
If you want a hiking pole with solid basic features, and don't care as much about accessories or planning for strange weather conditions, Montem is also a top pick. The telescopic design is easy to put away, and it lasts longer than many hiking poles. As mentioned above though, it lacks versatility, and you may end up buying a completely different hiking pole if you decide to upgrade.
SPECIAL HIKING POLES
Several of the other picks stand out in a more niche role. Gossamer's poles are a good second place pick because they are effective for hikers with arthritis or other arm-related issues. 
YOURJOY is an alternative pick that could easily be the second or first place for you if you want to get the whole family involved in the activity. Most hiking poles concern themselves with their maximum height, but YOURJOY alone has a reasonable minimum height for hikers who may still be in school.
UPGRADES FOR DEDICATED HIKERS
The Black Diamond Carbon Cork and High Stream Gear Foldable Hiking Poles are stand out options for serious hiking adults. Each is relatively heavy but much more durable than standard hiking poles. They are designed with athletic builds in mind, such as those found in soldiers or professional hikers.
They're also easy to pack and take the other responsibilities of professional hikers into account. The High Stream Gear hiking poles are the only model to include a belt strap, allowing you to check your compass, map, or other survival tools with ease. For normal hiking, BAFX receives the highest recommendation, but for dedicated hikers, High Stream Gear is a solid upgrade.
Featured Image by Christelle Olivier from Pixabay